For his debut album as an exclusive BIS artist, Johan Dalene – teenage winner of last year's Carl Nielsen International Competition – has not shied away from ambitious and much-loved repertoire. He and producer Jens U. Braun recall the recording process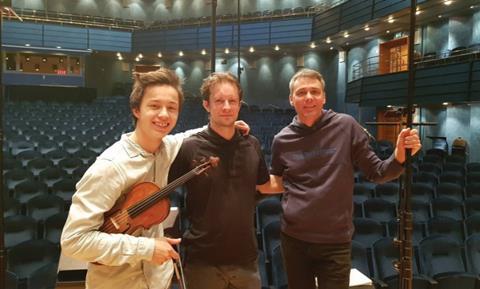 Left to right: Violinist Johan Dalene, conductor Daniel Blendulf and producer Jens U. Braun at Louis de Greer Concert Hall
JOHAN DALENE
Before I started recording this Barber and Tchaikovsky concerto album I had already played both pieces with the Norrköping Symphony Orchestra and conductor Daniel Blendulf, as I was their artist-in-residence last season. We recorded the album in the Swedish city of Norrköping, which is where I grew up. My dad plays in the orchestra, so that made the experience very special.
I played the Barber for the first time around four years ago with another Swedish orchestra. I'd heard of the piece, though had never really listened to it, but I then fell in love with it. It's an amazing work, but is not the most played concerto, so it was nice to pair a less performed piece with something as popular as the Tchaikovsky, which is the favourite concerto of so many people.
The Barber is a very romantic composition, but there are a lot of places where it sounds far more modern – especially in the second movement, which is a favourite of mine and which reminds me of the Brahms Concerto, with the oboe solo. It's so romantic and so deep, but it changes a lot in character in comparison with the Tchaikovsky Concerto, which is just a canzonetta, a simple song. They are definitely different pieces, although the final movements of both are super-fast and exciting. The Tchaikovsky finale is longer, though, and more involved, whereas the last movement of the Barber, for me, has a firework-like effect. It's really cool!
'THE LAST MOVEMENT OF THE BARBER, FOR ME, HAS A FIREWORKLIKE EFFECT. IT'S REALLY COOL!' – JOHAN DALENE
When you are playing for the microphone you can hear everything – every small sound and bow stroke. Depending on how the mic is placed, you have to pay special attention to your lower register, so it doesn't disappear; this is something I noticed particularly in the second movement of the Barber. I also found that it helps to use a lot of bow, especially when you are playing softly, so that the mic picks up different colours. You have to be very aware of vibrato and every technical aspect. It's hard not to think only about technique, but to think about the whole musical picture, too.
I have never experienced the life of an orchestral musician, working for hours in a row: it's quite hard to stay on top of your game. Of course, there are breaks, but you really have to focus all the time. The recording period was very intense; I really wanted to do my best, so I practised quite a lot in the evening after every session. After we completed everything we had a small party with some orchestra members, my teacher and my parents, and then I took a day off and met some friends. I didn't touch the violin for once.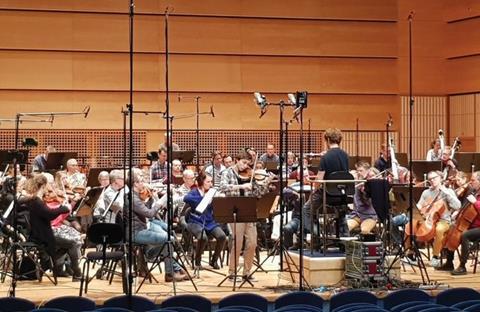 Dalene: 'When you are playing for the microphone you can hear everything'
JENS U. BRAUN
The atmosphere was really relaxed during the recording session; there were no difficult issues, mainly owing to the fact that the orchestra knows Johan so well because his father is a long-time member of the cello section, and Johan has played with the orchestra before. Performing this kind of repertoire for your first ever recording can potentially put a lot of stress on a musician. So I met Johan beforehand, just to see what kind of a guy he is. I was really happy to find that he seemed to be quite calm. He was, of course, concentrated and his adrenalin was high, but he was open to ideas. It was not difficult to approach him, so that was a relief for me.
The good thing was that he clearly knew what he wanted but was still eager to listen and to understand what Daniel or I thought. Technically, he was at the top of the game. So, whenever he thought: 'Maybe you're right – let's try that another way,' he could actually do it. Sometimes a musician can't easily change things, even if they want to, because they're somehow limited or not free enough to be spontaneous during the recording. But he was able to make changes as he went.
We started with the Barber, which was the right decision. When recording, the first session always takes a little bit longer because the performers have to get to know how things work and the chemistry has to establish itself. So we deliberately did not start with the Tchaikovsky, which is so difficult in its own right. The very beginning of the Tchaikovsky has to be good; it's so simple and open that straight away you hear every little instance of non-togetherness or flawed intonation in the orchestra. There are also so many ways to interpret that opening. Daniel took a little time to make the orchestra understand how he wanted it to be performed. The other movements were easier, but the first movement took a bit longer than I had expected. The sound is really important: I firmly believe that if you don't come up with a first-class, top-notch sound then it's really hard to compete in the market nowadays.
My reaction when I learnt about the repertoire for the recording was that it was an eager choice of pieces. I know both the Barber and the Tchaikovsky well and have recorded both of them before. I was really happy to see that Johan had something to say; he wasn't just reproducing interpretations that are already there. He's still very young and it's hard at that age to come up with your own version. But you can hear, particularly in the Barber, that he's got a unique perspective and you don't find that every day.
INTERVIEWS BY TOBY DELLER
WORKS Barber Violin Concerto; Tchaikovsky Violin Concerto
ARTISTS Johan Dalene (vn) Norrköping Symphony Orchestra / Daniel Blendulf
RECORDING VENUE Louis de Geer Concert Hall, Norrköping, Denmark
RECORDING DATES 7–11 January 2019
CATALOGUE NUMBER BIS 2440 (SACD)
RELEASE DATE 3 January 2020
This article was published in the February 2020 Ébène Quartet issue

The Ébène Quartet marks its 20th anniversary with a worldwide Beethoven tour and live recordings, and talks about the challenge of finding a new violist. Explore all the articles in this issue.

More from this issue…