At this year's Aspen Festival and School, an array of leading performers rubbed shoulders with hundreds of enthusiastic young musicians. Bruce Hodges soaked up the clear mountain air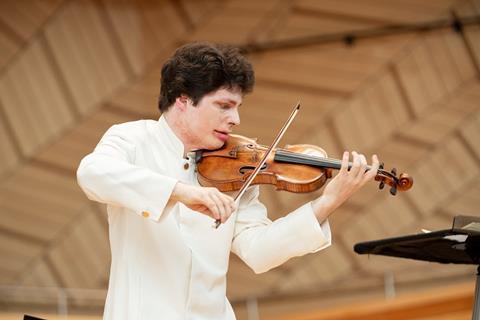 Almost 2,500m high in the Rocky Mountains is Aspen, Colorado. Home to celebrities and the wealthy, and dotted with luxury shops and restaurants, the bucolic locale creates an imposing yet informal backdrop for one of the world's great summer music festivals.
Established in 1949, the Aspen Music Festival and School (which this year took place between 28 June and 19 August) draws artists, audiences and students from the world over – and deservedly so. Considering the breathtaking mountain elevations on all sides, the laid-back yet exalted ambience and the presence of scores of artists and teachers – what music lover wouldn't want to come here?
Over an intense 48 hours, crammed with artistry, interviews, a few choice meals and a decent quantity of local beers, I succumbed to the Aspen allure. It began on 20 July when, after a long travel day, including a bus ride from Grand Junction (Aspen-Pitkin County Airport was closed, owing to smoke from nearby fires blocking the airspace), I still had 'fumes' to spare for a 6pm concert from the Aspen Chamber Symphony, with a brilliantly played and conceived sequence featuring British violist Lawrence Power.
After Alexander Shelley conducted a frenzied account of Bartók's Romanian Folk Dances, but before an elegantly proportioned Schumann Second Symphony, Power unveiled Esa-Pekka Salonen's Pentatonic Etude (2008), written for the violist as a prelude to Bartók's Viola Concerto. 'It's an etude on the pentatonic scale that comes at the beginning of the Bartók,' Power explained to me. 'Salonen explores every part of the instrument, and he also explores harmonics really well.'
On the Bartók, left incomplete at the composer's death, Power added: 'What interests me is the spirit of the piece. We don't know how much of it is Bartók's. We have to give the impression of it being his, through the lens of someone else.' (Power was referring to composer Tibor Serly, who compiled the work from Bartók's sketches.) Power's moving encore was a viola arrangement of 'Kaddisch' from Ravel's Deux mélodies hébraïques, with Carla Maria Rodrigues, principal viola of San Francisco Opera, leading the viola section in a sustained drone over which Power spun out a luxurious line.
The violist returned on Saturday afternoon with violinists Bing Wang and Cornelia Heard, fellow violist James Dunham and cellist Eric Kim in Mozart's String Quintet in D major K593, a satisfying conclusion to a chamber music snapshot that began with John Harbison's Mirabai Songs and Chausson's Piano Trio in G minor op.3.
Featuring private instruction, masterclasses and dozens of performance opportunities, the festival is a heady ecosystem
That night, violinist James Ehnes and pianist Andrew Armstrong showed grace and exactitude in four Beethoven sonatas (nos.3, 4, 8 and 10) – a quietly satisfying, pleasantly introverted affair. Armstrong made an ideal partner, glancing at Ehnes while anticipating every phrase with admirable foresight. The acoustically clear Harris Concert Hall, ideal for chamber music, was packed. In a brief talk prior to the performance, Ehnes commented: 'Aspen is amazing. If you come here at any given time, you're going to run into friends and colleagues, and interesting people, coupled with the incredible beauty of the place. The audiences here are tremendous – they're thirsty!'
The festival – comprising more than four hundred events, of which over two hundred are concerts – is the happy result of a comprehensive teaching initiative in which students work closely with renowned mentors. Featuring private instruction, masterclasses and dozens of performance opportunities, it is a heady ecosystem. Along with the main performance halls, the airy Bucksbaum Campus serves as the school's nexus, the heart of a unique environment for learning. This year, according to president and CEO Alan Fletcher (who is also a composer), the school attracted almost seven hundred young musicians and more than a hundred faculty and guest artists. 'It's important to understand that our massive presentation is geared to the educational component,' he said.
During a conversation I had with violinist and teacher Robert Lipsett (holder of the Jascha Heifetz Distinguished Violin Chair at the Colburn School, Los Angeles), he commented on the balance between the festival and the school, and on Aspen's cult of personality: 'I can walk around this town and I see people pointing at me,' he laughed. 'I'm a rock star here!' He mentioned some of the summer's bounty of violin talent: Ray Chen, Stefan Jackiw, Simone Porter, Sarah Chang, Midori, Gil Shaham. 'None of these people have to come to Aspen, but they all want to.'
One of Lipsett's students, Aubree Oliverson, agreed: 'The line-up of violinists is ridiculous.' She dreams of being a soloist, and this summer (her fourth as a participant at Aspen) she had a solo flight in Prokofiev's Violin Concerto no.2; and later in the festival she was a guest artist in a Robert McDuffie recital. 'To be here with hundreds of other students, all with similar goals, is magical,' she said.
On Sunday afternoon in the spacious, pleasing acoustic of the Benedict Music Tent – after wowing an audience a few days earlier in Ligeti's Violin Concerto – Augustin Hadelich appeared in Mendelssohn's op.64 with the Aspen Festival Orchestra conducted by Christian Arming. After the finale, sparked with gorgeous tone and piquant articulation, the house erupted in cheers. As a dazzling encore, the violinist transformed the virtuosity of Paganini's Caprice no.21 into more of a love letter.
When I met Hadelich earlier in the day, he argued eloquently for looking at the Mendelssohn anew: 'It's one of those pieces – Tchaikovsky is another one – in which violinists have been a bad influence on each other. Gradually, interpretations have become more exaggerated and distorted, and lost some of the spontaneity of the writing. Even some of the violinistic traditions of Ferdinand David, who premiered it, were already departures from what Mendelssohn wanted.'
The concert bore other treasures, too, starting with the US premiere of Anders Hillborg's monolithic Mantra – Elegy (Homage to Stravinsky), composed in 2017. After the interval, young cello star Joshua Roman leapt effortlessly into Strauss's Don Quixote, with Choong-Jin Chang (Philadelphia Orchestra principal) in the viola role and heading the Aspen Festival Orchestra's viola section.
Permanent Aspen residents number just over six and a half thousand, according to the 2010 census. Shops around town cater to the frissons of the ultra-wealthy. I chuckled, stumbling across a window with an imitation (presumably) diamond-encrusted skull sporting rakish sunglasses. A nearby hotel gift shop featured an imposing bronze spider, the size of a steering wheel, with a vintage clock face as its body.
But for music lovers, none of this matters; they dive in like dolphins. As Fletcher noted: 'People who haven't been here are not aware of how beautiful the setting is. Plus we're doing as many unique orchestral programmes in almost eight weeks as any orchestra does in a year. If I say, "Let's do mid-century modernist American symphonies," or, "Let's explore Carl Nielsen," we can do that, instantly.'
The town's intimacy means that students – and audience members – are likely to run into Power, Ehnes or Hadelich at the supermarket, or in a local pub. And even if the altitude does test some lungs, and reminds you to drink gallons of water, Aspen deserves to be on the radar of music aficionados everywhere. Sometimes a little light-headedness can be a glorious thing.