Jaemin Han, 15, performed Shostakovich's First Cello Concerto at the final in Bucharest, Romania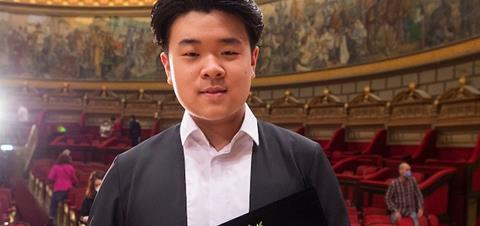 South Korean cellist Jaemin Han, 15, has become the youngest person to win first prize at the George Enescu International Competition in Bucharest, Romania.
Han, who takes home €15,000, performed Shostakovich's First Cello Concerto with the George Enescu Philharmonic Orchestra conducted by Nicolas Altstaedt. He is a student of Kangho Lee and competition jury member Myung-Wha Chung at the Korea National Institute for the Gifted in Arts in Seoul.
Read Violinist, 5, awarded Grade 8 distinction
Read No first prize awarded at 2018 George Enescu violin competition
Read Estonian cellist Marcel Johannes Kits wins George Enescu International Cello Competition
The €10,000 second prize went to 25-year-old German cellist Sebastian Fritsch and third prize, worth €5,000 to Stefan Cazacu, 27, from Romania.
Although the first two rounds of the competition took place last year, the concerto final was delayed due to Covid-19. Alongside Chung, the jury comprised David Geringas, Leonid Gorokhov, Alexandra Guţu, Frans Helmerson, Arto Noras, Jérôme Pernoo, Meehae Ryo, Tsuyoshi Tsutsumi and Raphael Wallfisch.