Second prize goes to 18-year-old Italian violinist Vikram Sedona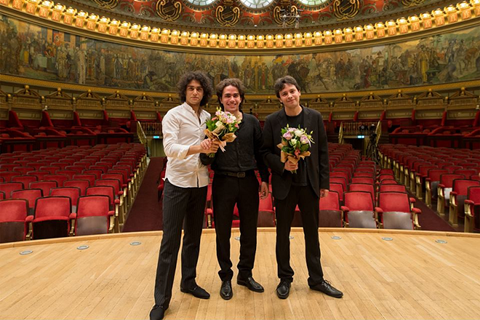 After a final round in which three violinists performed a concerto with orchestra, the judges of the George Enescu International Violin Competition decided to award no first prize.
Second prize of €10,000 went to the 18-year-old Italian violinist Vikram Sedona, who also received an invitation to give a concert in Lisbon and another special invitation from jury member Eduard Schmieder. The third prize went to the 17-year-old Italian violinist Giuseppe Gibboni, who receives €5,000. The third finalist, 27-year old Orest Smovzh from Ukraine, received a special award consisting of a series of Masterclasses from Silvia Marcovici and Mihaela Martin.
Sedona, who is currently studying with jury member Silvia Marcovici at the University of Performing Arts in Graz, was a 1st prize winner at the Andrea Postacchini International Violin Competition in 2017.
'We have enjoyed an exceptional evening, expressive contestants, with good mature technique at a very early age. We have seen innate talent and their potential,' says Mihai Constantinescu, Director of the George Enescu International Competition and Festival, 'The President of the Jury has the supreme authority and he wished to highlight the fact that, aside from an exceptional gift, more persistence is still needed to valorize talent.'
The jury consisted of Pierre Amoyal, (President of the Jury), Salvatore Accardo, Agustin Leon Ara, Remus Azoiței, Silvia Marcovici, Eduard Schmieder, Viktor Tretyakov, Pavel Vernikov and Krzysztof Wegrzyn.