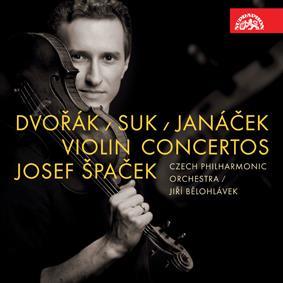 The Strad Issue: August 2015
Description: paček sings and dances his way through three Czech concertos
Musicians: Josef Š paček (violin) Czech Philharmonic Orchestra/Jirí BÄ›lohlávek
Composer: Dvorák, Janácek, Suk
Dvorák's Violin Concerto lacks the sense of ease and inevitability that informs his very finest work. Like Bruch's G minor Concerto, it was the result of several revisions and received considerable input from Joseph Joachim; yet whereas the Bruch creates the impression of urgent spontaneity, the Czech master (especially in the opening movement) strikes an uneasy-sounding compromise between concision and expansion.
Josef Š paček (recorded live) creates a tonally unblemished, lithe sound on his 1855 Vuillaume, and, by keeping things lyrically and rhythmically buoyant, segues between Dvorák's less than elegant structural interfaces with a disarming sleight-of-hand. The scorching urgency of Isaac Stern (Sony) and Itzhak Perlman (EMI) is counterpointed here by Š paček's desire to keep the music singing and dancing with infectious vitality. Jirí BÄ›lohlávek and the Czech Philharmonic sound in perfect accord, complementing Š paček's sprightly virtuosity with deft touches of orchestral colour in the glowing acoustics of Prague's Dvorák Hall.
Rather than coupling the Dvorák with another mainstream concerto, Š paček opens with a beguiling performance of Suk's G minor Fantasy, exalting in its occasionally soaring cantabile with a silvery purity that also proves ideal in the Janácek Concerto, an inspired restoration
of an abandoned project, providing a tantalising glimpse of what might have been.
Julian Haylock