One-year scheme will accept applications from young quartets which are already developing a profile, and offers coaching, use of facilities and more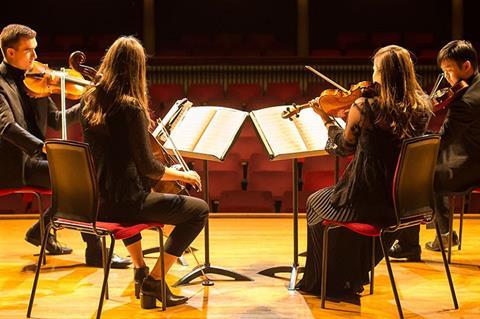 The Royal College of Music (RCM) has announced a new one-year string quartet fellowship, aiming to 'provide high level artists with a creative environment in which to grow, explore and establish a global network of professional contacts'.
The quartet chosen to receive the fellowship will have access to ensemble coaching from RCM professors, use of the facilities, and 'a significant performance profile' within the college's events calendar.
It is aimed at an established group in the process of developing a profile.
Mark Messenger, RCM head of strings, said: 'I am delighted to announce this initiative, which provides an inspirational and creative home for the next generation of string quartets. They will greatly benefit from the Royal College of Music's world-renowned coaching, mentoring and performance opportunities.
'The quartet will also enjoy membership of the RCM's global community of musicians, which offers the chance to engage with diverse interpretations and experiences of the repertoire.'
The fellowship is funded by the music trust set up in memory of music philanthropist Albert Frost, who died in 2010. A keen amateur violinist with a love for chamber music, he served in a number of musical organisation, including as chairman of the City of London Carl Flesch international violin competition.
The closing date for applications to the RCM String Quartet Fellowship is 4 February 2019. More details at www.rcm.ac.uk/fellowships/rcmstringquartetfellowship/