Our undergraduate Bachelor of Music (BMus) programme is a flexible four-year degree with a focus on principal study, alongside faculty activities and a mix of core and optional courses.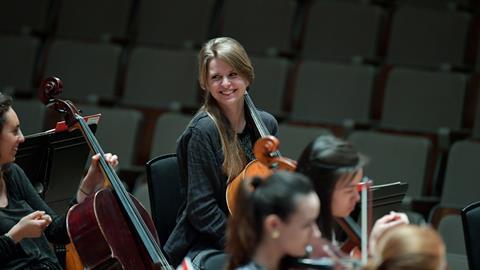 Learning & teaching
Our undergraduate programme is designed to be flexible, especially in years 3 and 4, ensuring you can undertake study directly relevant to your needs and aspirations. A variety of options helps every student develop their interests during their time at the RCM.
How to apply
Applications for entry in September 2022 will open on 15 July 2021. The application deadline is 1 October 2021. We are hoping to be able to audition at our overseas audition venues which may have later deadlines, but this is being reviewed.
Late applications may be considered for some principal studies. Please contact admissions@rcm.ac.uk before submitting a late application.
All applicants (including international applicants) should apply online through the UCAS Conservatoires admissions service, where you can apply simultaneously to all the institutions that are members of Conservatoires UK. You can track your application, find out when your audition is and get the results of your audition all on UCAS Conservatoires. You can also confirm your decisions online.
Applicants interested in joint principal study are reminded to submit only one application. If you submit two applications you will be charged twice.
Audition fees
Audition fees vary depending on a number of factors, including the audition venue. For a breakdown of audition fees please see our Choosing where to audition page.
Tuition fees
A full outline of tuition fees for all our courses, including details of charges for additional one-to-one lessons and reassessment fees, is available for download below.
Tuition fees for 2022-23 will be included here as soon as they are available.
RCM Tuition Fees & Other Charges 2021-22
RCM Tuition Fees & Other Charges 2020-21
Tuition fees are revised annually for Home and Overseas students. The increase is normally between 2% and 5% and is applied annually to each year of the programme. Please check this page periodically for the latest information.
Tuition fees for Home students on the BMus programme are aligned with the maximum tuition fee cap set by the UK government.