Orchestras across the globe have been experimenting with enhancing the audience's musical experience. What are the potential applications for VR technology, asks Peter Somerford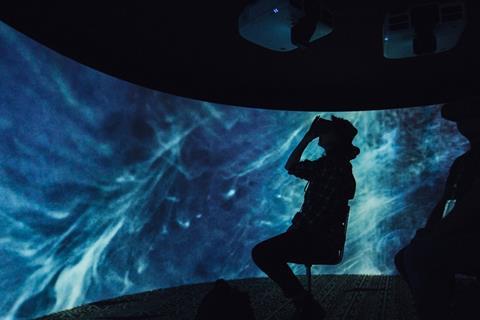 For orchestras looking for ways to connect with audiences beyond the concert hall, technology can offer rich possibilities, from social media and live streaming to content-rich, user-friendly websites. But orchestras are also creating new artistic experiences using technology, and virtual reality (VR) is emerging as an exciting medium for experimentation.
Combining 360-degree video with 3D or spatial audio enables users to experience what it looks and sounds like to be on stage with, or inside, an orchestra. The standard consumer-level VR hardware comprises a headset and headphones, offering a private, individual experience that can be enjoyed at home, but site-specific installations that combine a circular projection wall with multiple loudspeakers allow orchestras to present a shared VR experience to groups of people.
From Berlin to Los Angeles, Toronto to Auckland and Tokyo to London, symphony orchestras have been experimenting with VR in the past few years. In the UK, the Philharmonia Orchestra has been at the vanguard of this technology and has produced three public VR projects since 2016.
The Philharmonia's head of innovation and partnerships, Luke Ritchie, argues that VR is a powerful tool for demystifying the dynamics of an ensemble: 'Orchestras are a mystery to many people, from the layout of the instruments to what the conductor does. VR lets audiences get inside the orchestra and discover what everyone is doing, and also see how much collective effort is involved.'
Not only is the orchestra a good showcase for immersive visuals and especially spatial audio; it is also a stimulating environment for VR filmmakers. Jessica Brillhart, who runs Vrai Pictures and was formerly the principal VR film-maker at Google, directed a VR film of the Philharmonia playing the first movement of Beethoven's Fifth Symphony.
She says: 'An orchestra is an especially engaging place to explore. Unless you play in an orchestra, you won't ever get the chance to be in that position. And even if you are playing, you're not allowed to move around on stage. So VR allows people to explore what no one has explored before.'
Brillhart's film was inspired by the 'Golden Record' carried by the Voyager 1 probe on its journey beyond the solar system (the first movement of Beethoven's Fifth Symphony, with Otto Klemperer conducting the Philharmonia, was one of the pieces of music on the record). The film moved on from the single fixed-camera position favoured by most conventional orchestral VR projects to having the user jump from position to position within the orchestra, and Brillhart also incorporated visualisations of space that were created by NASA's Jet Propulsion Laboratory from data from Voyager 1.
'There will be all kinds of possibilities as the technology keeps evolving' – Jessica Brillhart, founder, Vrai Pictures
Moving the camera to create a series of perspectives allowed Brillhart to direct the user experience to fit her artistic vision, although she anticipates that as VR technology improves, users will have much more freedom to explore the orchestra: 'Instead of moving a camera rig from one place to another, we could have a set-up that allowed users simply to walk around to move unimpeded, or keep coming back to a position and hear a section again and then move on. There will be all kinds of possibilities as the technology keeps evolving.'
How users access VR is also changing, with the nascent home consumer market fragmented as companies compete with different set-ups and platforms. Ritchie accepts that the private, closed experience provided by a VR headset is different from the mass communal experience of a live concert, and says: 'The technology can be isolating. It's still clunky, and some people aren't comfortable wearing the equipment.'
To counter this, the Philharmonia built a system using an 18-speaker array, thus negating the need for headphones. This in turn evolved into the VR Sound Stage, a custom-built projection cylinder for screening the footage, with speakers hidden behind the acoustically transparent screen. 'Then you can present VR without any headsets or headphones,' says Ritchie, 'which immediately makes it more accessible to large groups, including children and people with disabilities.'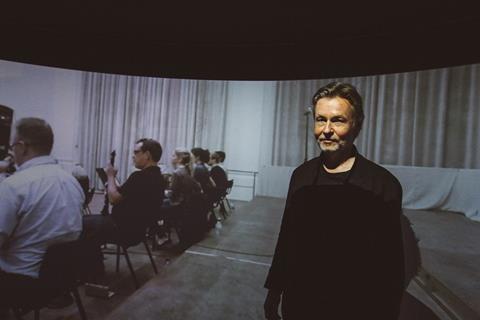 Even without dedicated installations, orchestras have shown the outreach potential of VR. In February and March 2018 the Adelaide Symphony Orchestra's (ASO) Encore in VR project took headsets loaded with VR footage of a 2015 ASO concert into 14 community centres. 'The idea was to take the orchestra to people who, because of distance, age, disability, money, or other reasons, are unable to attend ASO concerts,' says ASO managing director Vincent Ciccarello.
Older volunteers from the Friends of the ASO received training in using the headsets and then facilitated the project with community members, in the process modelling how older people can master new technology. 'Nothing can supplant the live experience of being in the concert hall,' says Ciccarello, 'but we see genuine possibilities for place-bound audiences and for reducing social isolation via this medium.'
Partnerships with technology companies – the Philharmonia has partnered with Google and Sony, among others – are allowing orchestras to access not just specialist equipment and expertise, but also funding for VR projects. 'Sometimes orchestras underestimate their value, but we know a great deal about interacting with audiences,' argues Ritchie. 'We also bring artistic integrity and a fresh outlook to the world of VR.'
This article appears in the January 2019 issue of The Strad