There is so much more to the unaccompanied violin repertoire than the works of Bach, Paganini and Ysaÿe, writes James Dickenson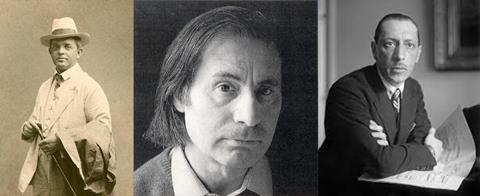 I have a confession to make: I am not a great fan of Bach's Sonatas and Partitas for solo violin. Of course, I know them well and have studied them extensively, but I don't play them often and I don't automatically teach them to my students. This is not to say that they aren't great pieces – they are. But my reluctance exists because there is so much other great solo violin repertoire that is continually overlooked. In the pedagogical world I have listened to many students struggle through a Bach fugue, only to wonder whether it would be better for them to play a Tartini solo sonata, or Telemann's equally wonderful and almost always ignored 12 Fantasies.
If we're asked to name the best solo violin compositions for study and performance, the same works come up again and again – Paganini's Caprices, Ysaÿe's Six Sonatas for solo violin, and probably Wieniawski's Etudes-Caprices op.10 – but that's about as far as it goes. How likely is it that you would find the wonderful Sonatina pastorale for violin solo op.383 by Darius Milhaud in a student's case?
As players and educators, we seem to be suffering from a collective amnesia – as if works outside this core group do not exist. Moving into the 19th and 20th centuries, for example, the once-popular Prokofiev Sonata op.115, alongside Reger's op.91 and op.42 sonatas, and Bartók's Solo Sonata seem to have taken a back seat. Or how about Sinding, Nielsen, Piazzolla, Rodrigo, Khachaturian, Stravinsky, Shchedrin and Schnittke, all of whom wrote wonderful solo pieces? And this isn't even touching on more avant-garde composers, or the British collective where there is a treasure trove of masterpieces just waiting to be played: David Blake's Fantasia, first premiered by one of my teachers; works by Christopher Rowland; David Ellis's Violin Sonata; compositions by Robin Holloway; Alexander Goehr's Broken Lute; and works by Nicholas Maw, and Michael and Lennox Berkeley.
We need to move away from Bach and to start exploring the works of these other composers in our studies and on the concert platform. I know several teachers who do not – or will not – teach contemporary solo violin pieces. But why? How is it possible to equip a young player for the modern world and a career in music without studying these pieces and the extended techniques they involve? I don't believe that it is, and as a consequence, I commonly use many solo violin works in my teaching.
In recordings, too, violinists seem all too eager to prove themselves equipped for yet another interpretation of the Bach Sonatas and Partitas. I must confess I am at a loss as to the reason why. Does the world really need this? It is certainly wonderful to see an increase in recordings on small labels and YouTube of some of the lesser-known solo pieces, but so often they are played or recorded once as an interesting deviation from the usual path, and then forgotten.
The only real way to improve the profile of these pieces is to play them and to integrate them more fully into conservatoire curricula. We should also remember that Bach's Sonatas and Partitas only really became popular in the middle of the 19th century, when they were first published in the Bach-Gesellschaft Ausgabe.
Over the next year or two I will put together a compendium of solo violin pieces that have been lost and forgotten and publish them, so they will be readily available to the string community. Perhaps we already have so many wonderful pieces that we are spoilt for choice – but there is such richness in this area that remains largely undiscovered. This, I believe, needs to change.
This article was published in the July 2021 Carlo Bergonzi 'Baron Knoop' issue

Micro-CT scanning technology reveals the secrets of the 1735 Carol Bergonzi 'Baron Knoop' violin. Explore all the articles in this issue . Explore all the articles in this issue

More from this issue…