Despite the large number of young and talented British string players, few seem to make an impact as leading soloists on the world stage. Charlotte Gardner explores the reasons for this phenomenon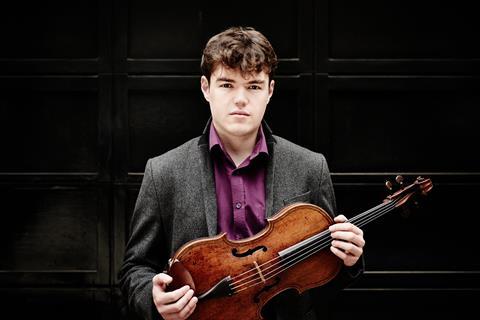 British violist Timothy Ridout is making a splash internationally © Kaupo Kikkas
As a journalist and critic I'm of the view that the basis for championing any artist must be excellence alone, regardless of nationality. However, I still find it exciting when the artist or ensemble blowing my socks off just happens to be British. Occasionally I sit musing with colleagues as to why we see so few British string players at worldwide competitions and with international careers, when there are plenty on our national music scene. Are we producing national- rather than international-level players, or is there something else going on?
Those musings have reached fever pitch recently, not least because of the growing career of violist Timothy Ridout – from his signing with L'Agence artist management in Paris to winning the Prix Thierry Scherz at the Sommets Musicaux de Gstaad 2019. Then there have been violinists Mathilde Milwidsky, who last year reached the semi-finals of Hanover's Joseph Joachim contest, and Louisa Staples, who at 18 came fourth in the 2018 Long-Thibaud-Crespin International Competition in Paris. Like buses all coming at once, we now have three young Brits holding their own internationally.
These young artists might constitute a happy coincidence. But there's the fact that all three have gone to study abroad: Staples at the Hanns Eisler Hochschule, Berlin, and Ridout and Milwidsky as postgraduates respectively at the Kronberg Academy and the Academy of Music and the Performing Arts, Munich. This feels significant when I think of the number of major artists who've told me how much studying abroad challenged their perspectives – and enriched their playing – by encounters with people of different backgrounds.
I decided to take a closer look at the overall picture of British string players abroad. In terms of music schools, Staples is currently the only British string student at the Hanns Eisler Academy, and Ridout is the only Brit at the Kronberg Academy.
British violinist is appointed in Hannover
Are competitions inherently problematic?
British orchestras are reaching larger audiences but losing income, says ABO
Moving on to competitions, there were no Brits among the 2017 Queen Elisabeth Competition's 70 cellist competitors, and only three in last year's Long-Thibaud-Crespin contest. However, around 40 applied for this year's Windsor Festival International String Competition. Perhaps there would be more UK faces in continental competitions if young artists were aware of what a competition can do for them, whether they make the final or not. At the Long-Thibaud-Crespin last year, for instance, French festival organisers were attending all rounds, because they wanted to make their own decisions about which competitors might be worth programming in the future.
So it does look like British string players may not be testing international waters when it matters most, and I can think of a few reasons why. Geography is an obvious one, because when you live on an island, a move beyond its shores feels far more like 'going abroad' than a mere jump over a border. The lack of emphasis on foreign languages in British schools doesn't help either.
Possibly the UK's extraordinarily international and competitive music scene is in fact as much a curse as a blessing, because it creates the impression that we're already international (half of the Royal College of Music student body is split between over 60 non-British nationalities); whereas there's a difference between operating within an international milieu and working at an international career. Perhaps also, institutions such as the Kronberg Academy look from a distance like impossible targets unless you believe yourself to be Menuhin or Du Pré reincarnated. However, you'll never know if you never try, and whether or not you're Kronberg material, there's a danger you may never reach your full potential, because big fish in a small pond won't be constantly inspired and challenged to reach new heights.
It's worth asking these questions, because there are some exciting emerging UK artists in the current crop. I believe they have what it takes to go international. The question is, are they doing all they can to get there?
This article was first published in The Strad's May 2020 issue.