Charlotte Gardner checks recent Joseph Joachim Competition rumours against reality and cautions against letting young musicians get caught in the crossfire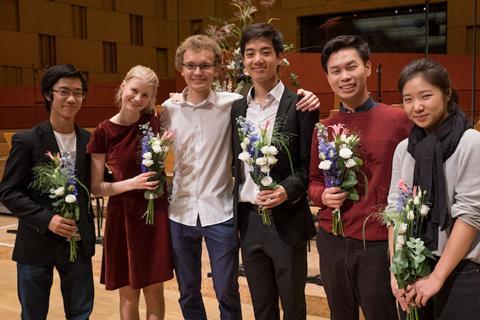 You would think these days that discussion around international music competitions has moved beyond stories of foul play and judges favouring their own pupils. Indeed the story of recent years has been one of historically dodgy competitions prominently cleaning up their acts.
So when I sat down a couple of weeks ago to the finals of the Joseph Joachim International Violin Competition in Hannover, it was with a healthy degree of scepticism that I viewed the whispers circulating over whether the judging panel were coming under pressure from competition artistic director Krzysztof Wegrzyn to favour his own pupil, 21-year-old Cosima Soulez Larivière from France.
For starters, my opinion was that Soulez Larivière's earlier-round performances had earned her a place in the finals fair and square. Plus, it's a rare competition that doesn't elicit cries of surprise and disappointment over who and who doesn't get through to fight it out for the top spot; and ideally we should get over such disappointments quickly so that we can pay the remaining young musicians the respect of listening to them with uncluttered ears.
Presumably it'll never be publicly confirmed whether there was a problem in Hannover. What we do know is that Soulez Larivière walked away with third prize despite the Sibelius Violin Concerto, her final round choice, having very quickly and noticeably overpowered her (and indeed I felt for her terribly, because she can't have been unaware of what was being said, and the pressure must have felt immense).
And while that on its own means relatively little, perhaps it does mean something that the day after the gala prizewinners' concert it was announced that Wegrzyn was relinquishing all his positions. Perhaps.
As for how we should all react to such events, I think the answer has to be: with measure. Firstly, because if there was indeed a problem then it was still mercifully the exception to the norm, and journalists in particular, with our public pens, must not assume foul play simply because our favourites didn't come out on top.
Even more importantly, though, when unfairness does happen, we all need to guard against taking it out on the pupils caught in the middle. It would be a tragedy if the Hannover experience were to affect either Soulez Larivière's confidence in herself, or our confidence in her.
---
What I do think would be genuinely interesting to discuss, however, is the ways in which competitions are judged. Because, let's face it, it's a rare contest that doesn't yield surprising rankings, even allowing for differing tastes. In fact, to my mind the biggest surprise at Hannover wasn't Soulez Larivière's third, but that after an interesting bunch of semi-finalists I couldn't pick a single finalist who indisputably combined solid technique with a voice worth listening to – to the extent that I felt unable to file my ballot paper for the audience prize.
So the question is whether there is a way to handle competition adjudicating that would actually result in fewer puzzling decisions.
The recent Long Thibaud Crespin International Violin Competition in Paris refreshingly and wisely went for judges whose careers are primarily as performers rather than as teachers and are less likely to have conscious or unconscious biases. (Though for the record, the two competitors I most want to hear again are third and fourth prizewinners, Dmitry Smirnov from Russia and Louisa Staples from the United Kingdom.)
Elsewhere it's been suggested that the practice of judges giving a competitor a straight mark often leads to the in-the-middle artists getting the gong, simply because truly outstanding performances also have the habit of profoundly splitting opinion. Perhaps therefore it's worth investigating whether it could be beneficial for jury members to award separate scores for technique, period awareness and artistic flair, which would then be totted up.
That said, the latest Leeds International Piano Competition operated a yes-no voting model, backed up by a straight mark out of ten for tiebreaks, and its first prize winner, Eric Lu, was also the critics' favourite and of the record label offering the winning recording (Warner Classics was allowed to sign up any of the finalists). Where it did substantially deviate from the norm, however, was with the panel itself, and not simply because it didn't include teachers: in fact, four of the nine judges weren't professional pianists at all: co-artistic director Adam Gatehouse who founded the BBC New Generation Artist Scheme, composer Thomas Larcher, violinist Henning Kraggerud (yes, a violinist!) and Southbank Centre director of music Gillian Moore. That's almost half the jury bringing a wider musical perspective on things.
Whether judging set-ups change or not, it's worth remembering that many of the world's most brilliant artists never carried off a competition first. It's also worth not being too cynical about competitions, because ultimately they're still an excellent means of giving visibility to young artists.
So record labels, artist agents and journalists watching competitions should have the bravery to go with their gut and snap up anyone who strikes them as special, regardless of that musician's eventual ranking.
In other words, ultimately we can all play our parts in ensuring the creamiest cream rises to the top.
This article was originally published in November 2019
The Joseph Joachim Competition has been approached for comment