Asbjørn Nørgaard was told he was not allowed to place his case in the overhead lockers – despite recent changes to the airline's hand baggage rules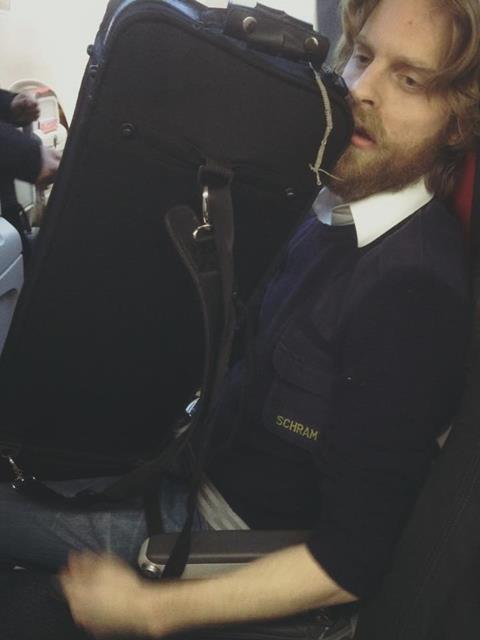 The Danish String Quartet has published a photo on its Facebook page of violist Asbjørn Nørgaard struggling to find space for his instrument on board a Norwegian flight.
Airline staff suggested that the musician find room for his viola between his legs after refusing to place the item in the overhead lockers. The awkward arrangement came despite a change to the airline's hand baggage rules to allow violins and violas inside the cabin in response to widespread criticism from musicians.
The Danish Quartet caption reads:
'Asbjørn struggling to find space for his viola case between his legs as he is not allowed to put it in the overhead compartment despite new rules for instruments in the cabin. †ª#"Norwegian†¬ you can do better than this! #"Fly_Norwegian†¬'
Last month Norwegian staff twice insisted musical instruments be checked into the hold in the space of a week. Helsinki Philharmonic violinist Ari Vilhjalmsson reported that staff had refused to transport his €200,000 violin in the cabin, citing airline policy, despite Vilhjalmsson having flown with his violin safely stowed in the overhead lockers on numerous occasions. Subsequently violist Patrick Rutland contacted The Strad about a similar incident.