Over a career spanning eight decades, Asmussen collaborated with such jazz luminaries as Duke Ellington, Benny Goodman and Stéphane Grappelli, and recorded several albums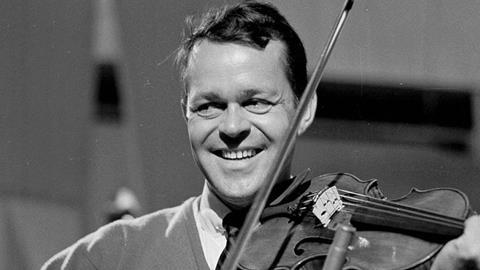 Danish jazz violinist and composer Svend Asmussen died on 7 February at the age of 100. Over a career spanning eight decades, he developed a reputation as a showman, frequently interspersing his performances with improvisations and moments of cabaret and vaudeville-style humour. As well as the violin, he performed on the vibraphone, flute and conga drums, and was an occasional singer.
Born on 28 February 1916, Asmussen started performing professionally at the age of 17. During the war he was arrested and imprisoned in Berlin. He formed the jazz trio Swe-Danes in the 1950s with Danish guitarist Ulrik Neumann and Swedish singer Alice Babs, and enjoyed success across Scandinavia with their light-hearted style. During this time, Asmussen also performed with such jazz luminaries as Duke Ellington, Benny Goodman and Lionel Hampton.
In 1963 Asmussen was invited by Ellington to play on his album 'Duke Ellington's Jazz Violin Session', on which he can be heard playing alongside Stéphane Grappelli and Ray Nance. The recording was only issued 13 years later in 1976, after Ellington's death. Asmussen also collaborated with Grappelli on 'Two of a Kind', an album of 1965, and a year later made a live album, 'Violin Summit', featuring Grappelli, Jean-Luc Ponty and Stuff Smith.
He continued making albums throughout the following decades, making his final album, 'Still Fiddling', in 2002 with Danish guitarist Jacob Fischer. His autobiography 'June Nights' was published in 2005, and he was the subject of a 2009 documentary, 'Svend Asmussen: The Extraordinary Life and Music of a Jazz Legend'.
Watch the violinist performing below: