The 18-year-old Bienen School of Music student receives the top prize of $13,000 and concert engagements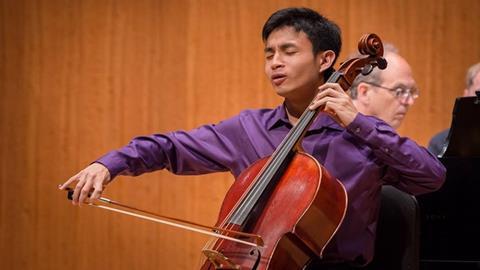 Cellist Jeremy Tai has won first prize at the 32nd Annual Irving M. Klein International String Competition, held at San Francisco Conservatory of Music.
The 18-year-old California native, who is currently studying with Hans Jørgen Jensen at the Bienen School of Music at Northwestern University, received the top prize of $13,000 and concert engagements for his final round performance of Lisa Bielawa's Insomnia Etude #3, and works of Grieg and Prokofiev.
Second prize, worth $5,500, went to 20-year-old violist Zhanbo Zheng, while third prize, worth $2,500, went to 20-year-old violinist Kyumin Park.
This year's winners were whittled down from 99 applicants from 13 countries, aged between 15 and 23, by way of a semi-final, featuring nine shortlisted string players.
The 2017 jury featured Michael Gelfand, David Kim, Ian Swensen, Barbara Day Turner, William van der Sloot, Sandy Wilson and Klein Competition composer Lisa Bielawa.
Previous winners of the Klein Competition include violinists Jennifer Koh, Frank Huang and Tessa Lark, and cellists Robert deMaine and David Requiro. Last year, 19-year-old William Langlie-Miletich was named the contest's first ever double bass winner.
Photo: Carlin Ma