A recent flawed but exhilarating solo violin recital at London's Barbican Hall spoke a greater truth about the human experience because of its imperfections, says Charlotte Smith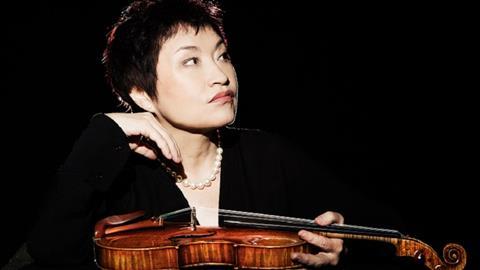 It was one of the most exposed and potentially nerve-racking performance choices imaginable: a single spotlit violinist, without piano, chamber or orchestral accompaniment, on the bare Barbican Hall stage. Kyung Wha Chung had returned to London in a follow-up performance to her much-publicised Royal Festival Hall comeback in 2014. That event had been overshadowed by the issue of audience etiquette and Chung's decision to single out a young audience member for coughing. This time the violinist seemed determined to present music without distractions.
Her choice of stripped-down solo Bach – the six monumental Sonatas and Partitas played consecutively and from memory on a single evening – was a bold one. How would the 69-year-old fare in such a musically and technically demanding programme?
Within the first few bars it was apparent that this would not be the familiar polished performance from Chung to which audiences have become accustomed. Her tone was sometimes unfocused and phrases not always crystal clear. However, the artist's intensity and imperious command of the audience shone through as she navigated her way through Bach's mercurial changes of mood.
After the interval she found herself in real trouble in the Fuga of the Second Sonata. Despite several attempts to work her way through a particularly knotty passage, the violinist had to stop, apologise and start again from the movement's opening.
For many musicians sitting in the audience this might have been the stuff of nightmares. Formerly a music college student myself, I am regularly plagued by dreams in which, underprepared for a long and important recital, I am unable to carry on when a performance goes 'wrong'. Yet the reality was very different. Rather than issuing the disgusted tuts and sneers of contempt that I have often imagined, the Barbican audience rallied around Chung. There was warm applause as she began the Fuga again, and calls of 'Not to worry!' and 'It happens!' On her second attempt, the violinist worked her way through the movement successfully and went on to perform the remaining works without incident.
More importantly, though, I found this to be one of the most mesmerising and enjoyable performances I can remember. Chung has always been a highly distinctive performer, and with a career spanning almost 50 years, it is clear that she brings to Bach's enduring works a wealth of experience and knowledge.
I have often heard it lamented that today's performers, as talented and impressive as they are, lack the character of the early greats. Whether or not this is true, it can certainly be said that the rise of polished recordings throughout the 20th century and the prevalence of digital editing software today has led to an expectation and acceptance of 'perfection' from the current generation of leading soloists, and this extends beyond mere technical prowess to encompass musical ideas about the 'right' and tasteful interpretation.
Yet if interpretations are to be truly individual (and, by extension, interesting), they cannot be beyond criticism by everyone's tastes and standards. Indeed, sometimes imperfections – a missed note here, a fudged passage there – can convey so much more than impeccable playing. At its best, music has the ability to tap into human frailties and emotions – our capacity to reach great heights and conversely to make mistakes, to demonstrate the energy and exuberance of youth and the pain and wisdom of age. In a sheeny shiny era of photoshopped selfies, high-definition CGI and autotuned pop music, an older, dignified artist with an occasionally shaky bow can speak more truth about the tenuous nature of our lives than any number of 'flawless' but empty renditions. That a performer of Chung's stature was prepared to take to the stage and share with her audience an imperfect yet meaningful performance is an uplifting lesson for us all.
Photo: Simon Fowler