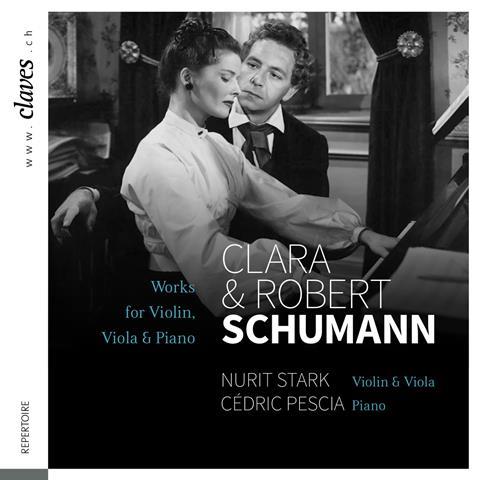 The Strad Issue: September 2015
Description: Bright and brisk performances of music by the two Schumanns
Musicians: Nurit Stark (violin/viola) Cédric Pescia (piano)
Composer: C. Schumann, R. Schumann:
Joseph Joachim, who premiered Robert Schumann's D minor Sonata, proclaimed it 'one of the loveliest creations of recent times'. It's hard not to agree with him when listening to the fierily passionate interpretation of Nurit Stark. This intensity, combined with a rather close recording, can however induce some aural fatigue, especially in the sonata's insistent first movement (here all of 14 minutes long, including the often-omitted repeat). Between the 'hunting' scherzo and the tempestuous finale, the slow movement brings welcome repose, with Stark delicately voicing the opening pizzicato exposition of its chorale-like theme. Her collaboration with Cédric Pescia is delightfully dovetailed, and they find plenty of detail in the following variations.
For Märchenbilder, Stark and Pescia choose some unusually fast tempos, making the two middle movements sound somewhat impatient, in spite of both players' admirable precision. Stark plays here on a bright-sounding viola, which – along with the brisk pace – further short-changes the 'melancholic expressivity' of the final, C string-centred lullaby.
Clara Schumann's Romances receive a nicely intimate reading that really highlights the quiet sophistication of their piano writing without trying to make more of the music than it can take. The CD's presentation is most appealing, with three essays that complement each other nicely (I confess not to have known that Märchenbilder was inspired by a poem of that name). I wish they had included Robert's A minor Sonata as well.
CARLOS MARÁA SOLARE