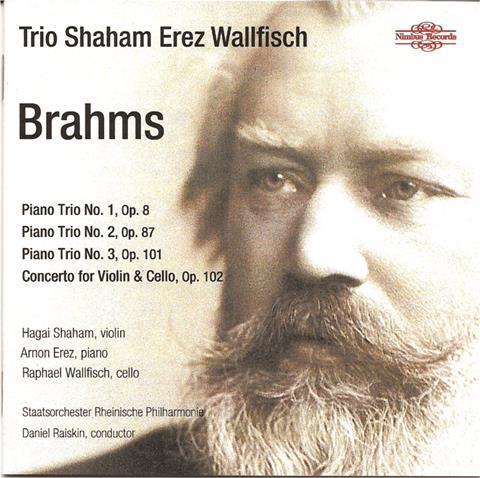 The Strad Issue: September 2016
Description: Brahms's three piano trios and the concerto for the same soloists
Musicians: Hagai Shaham (violin) Raphael Wallfisch (cello) Arnon Erez (piano) Staatsorchester Rheinische Philharmonie/Daniel Raiskin
Composer: Brahms
Catalogue number: NIMBUS NI 5934 (two CDs)
The string quartet is a formation that usually demands exclusivity from its members – the part-time Arcanto Quartet being one exception that proves the rule. Piano trios, though, have often been formed by a threesome of like-minded soloists: the fabled 'Million Dollar Trio' of Heifetz, Rubinstein and Piatigorsky springs to mind, as do several hyphenated groups such as the Cortot–Thibaud–Casals, Istomin–Stern–Rose or (still going strong after almost four decades) Kalichstein–Laredo–Robinson trios.
The present ensemble, founded in 2009, belongs decidedly to this illustrious line. The players' traversal of Brahms's oeuvre for piano trio shows them as a perfectly attuned group; both string players are mercurially alive in their phrasing and dose their usage of vibrato in a consistently unanimous manner. A column could be filled enumerating the felicities of characterisation with which these readings are replete: Brahms's ubiquitous hemiola rhythms lilt and bounce, his 'hunting' scherzos gallop merrily along and soaring legato phrases sweep over the fingerboard, carried by Shaham and Wallfisch's seductive, almost tangible sound.
The three trios were recorded in Nimbus's hall at Wyastone Leys, a most vivid acoustic that brings the three players straight into one's living room. Balance with the piano is absolutely realistic: if the cello is almost drowned in one or two passages, that's Brahms's fault! Throughout, Erez is considerate of his partners and beautifully dovetails his thematic exchanges with them. Time stands still in the chorale-like alternations between piano and strings in the Adagio of op.8.
The 'Double' Concerto fills out the second CD, an inspired juxtaposition that highlights some compositional similarities with the near-contemporaneous C minor Trio. It comes across as almost chamber-like, thanks to the sophisticated nuances Daniel Raiskin draws from his Koblenz-based orchestra, sticking faithfully to the soloists' perfectly judged rubato.
Carlos Maria Solare