Four finalists will compete for $10,000 top prize on Tuesday evening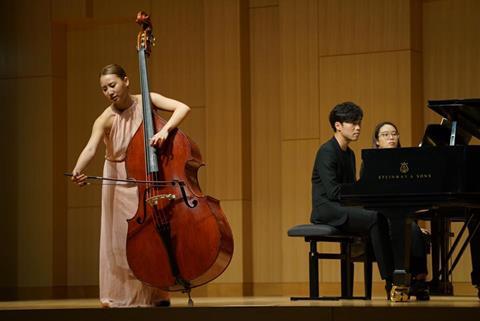 The Bradetich Foundation International Double Bass Solo Competition at the North Texas College of Music, in Denton, Texas, has named it's four finalists: Szymon Marciniak, Marek Romanowski, Dominik Wagner and Mikyung Sung.
The four will perform with orchestra on Tuesday 5 September at 7:30pm (CT), and the final will be streamed live on the foundation's Facebook page. An online poll will be used to decide the audience favourite.
From a list of prescribed works, Simon Marciniak and Marek Romanowski will both perform Frank Proto's Nine Variants on Paganini, Dominik Wagner will play Andrés Martín's Concierto para Contrabajo y Orquestra, and Mikyung Sung Bottesini's Concerto no.2.
The competition awards a first, second and third prize of $10,000, $5,000 and $2,500 respectively.