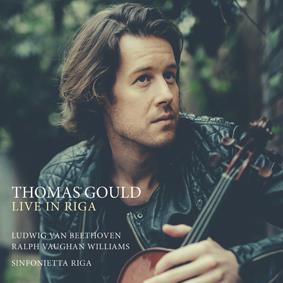 The Strad Issue: July 2015
Description: The Gould players complete their survey of Beethoven's piano trios
Musicians: Gould Piano Trio
Composer: Beethoven
The sprightly, deftly phrased opening of Beethoven's youthful First Piano Trio is a promising opening to this fourth and final volume of the complete Beethoven piano trios, recorded live by the Gould Trio at St George's, Bristol. There's a bounding energy and gleeful articulation here that is infectiously arresting. If the beginning of the second-movement Adagio cantabile points some way to the sublime, the movement doesn't quite reach a state of true poetry – though that comes in the dramatic minor-key middle section. The scherzo and finale bring ebullience and verve in spades. Beethoven's Allegretto movement for a Piano Trio in E flat major (Hess 48), pre-dating the op.1 trios, is of limited interest but the Gould players bring a collegial spirit to it.
The last of Beethoven's piano trios, the 'Archduke', radiates with the same energy as op.1 no.1 but with an appropriate sea-change in expressive scale and dramatic depth. The upwards-slithering chromatic canon in the scherzo's trio belies the delicacy of the outer sections. The theme of the following Andante cantabile is plushly expansive, with the first variation reaching a dreamlike suspension and the fourth sporting gorgeous, barely vibratoed string playing. Throughout the disc, the Gould Trio's playing is coherently conceived and lucidly expressed, and the recorded sound finely balances close-up definition with the venue's acoustic bloom.
EDWARD BHESANIA