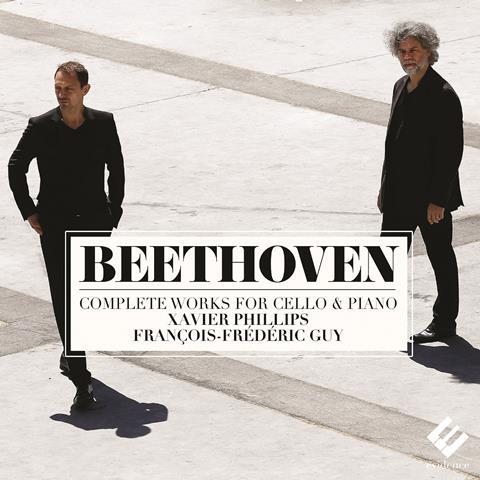 THE STRAD RECOMMENDS
The Strad Issue: February 2016
Description: Sparkling performances of Beethoven's cello sonatas and variations
Musicians: Xavier Phillips (cello) François-Frédéric Guy (piano)
Composer: Beethoven
By way of a musical limbering-up exercise, Xavier Phillips and François-Frédéric Guy open their latest release with the three sets of variations that Beethoven based on 'See the conqu'ring hero comes' from Handel's Judas Maccabaeus and (from Mozart's Die Zauberflöte) 'Ein Mädchen oder Weibchen' and 'Bei Männern'. Often played as also-rans with too heavy a hand, here these delightful sequences of (mostly) playful invention possess sparkling energy and micro-inflected enchantment. They set the scene for engagingly spontaneous readings of the two op.5 sonatas that make even Mstislav Rostropovich and Sviatoslav Richter (Philips/Decca) on peak form appear trenchantly furrowed-browed by comparison.
The deft touch of Phillips and Guy, combined with their tendency towards Viennese Gemütlichkeit, ensures that the popular A major Sonata dances with post-Mozartian exuberance, with thrusting sforzando off-beats taken in their stride. The mere designation 'op.102' is normally enough to make interpreters of Beethoven's final cello sonatas turn philosophical, introspective and weighty, making Phillips's unclouded vision and uncluttered, natural phrasing especially poignant. The slow movement of the D major (no.5) – aptly described by the composer's early biographer Anton Schindler as among his 'richest and most deeply sensitive inspirations' – is voiced with a radiant simplicity that is deeply affecting. In contrast to those performances that storm the heavens at the slightest provocation, Phillips and Guy here captivate the imagination with a beguiling range of musical brush strokes.
The production team creates a near-ideal sound world that emphasises middle-register cello clarity while discreetly balancing the imposing piano part.
Julian Haylock