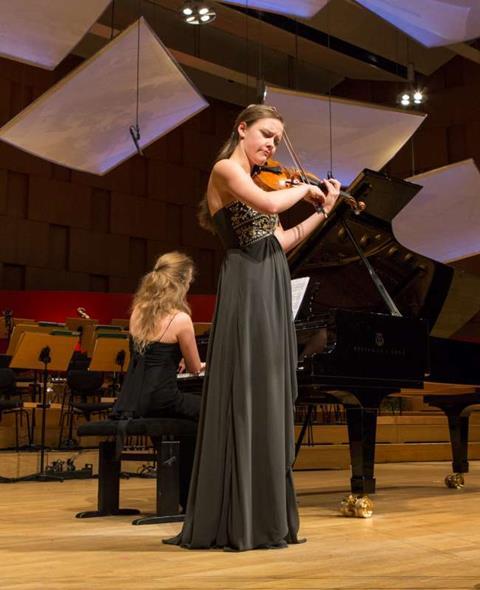 The BBC has confirmed it will remove a statement made last week by violinist Nigel Kennedy at a Proms concert for its TV broadcast on 23 August. The statement, made from the stage of the Royal Albert Hall, came at the end of a concert by Kennedy and the Palestine Strings (pictured), and appeared to refer to 'apartheid' in the state of Israel.
Kennedy, 56, made the comment after taking his bow with the 17-strong group, all of whom are studying at the Edward Said National Conservatory of Music in Palestine. Referring to the performance, he said: 'Ladies and gentlemen, it's a bit facile to say it but we all know from experiencing this night of music tonight that giving equality and getting rid of apartheid means there's a chance for amazing things to happen.'
A BBC spokesperson said that 'for editorial reasons', the comment 'will not be included in the deferred BBC 4 broadcast on 23 August because it does not fall within the editorial remit of the proms as a classical music festival'.
The statement was broadcast in full on BBC Radio 3 as the concert was aired, and was not redacted when the performance was made available for seven days after the performance on the corporation's website. However, in an interview with the Jewish Chronicle last week, former BBC governor Baroness Ruth Deech called the remark 'offensive and untrue', adding, 'It is inappropriate to allow the Albert Hall to be used for inflammatory comments such as this. Imagine if a conductor with Spaniards in his orchestra used the Proms to attack UK ownership of Gibraltar.'
Deech also called for an apology from the BBC and for Kennedy's comments to be removed from the recording on the BBC's iPlayer service.
At the start of the concert, Kennedy had also said, 'The concert tonight is very emotional because I am performing for people who are imprisoned, to give them two hours of fun and show them that the world has not forgotten about them.'
Kennedy has previously refused to play concerts in Israel, but has participated in the Palestinian-run Jerusalem Festival in East Jerusalem.
Photo: BBC/Chris Christodoulou
Subscribe to The Strad or download our digital edition as part of a 30-day free trial