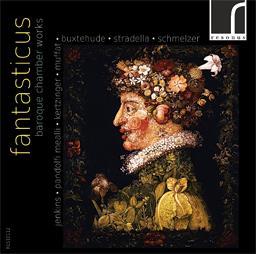 THE STRAD RECOMMENDS
The Strad Issue: January 2012
Description: Stunning recordings of little-known 17th-century chamber music
Musicians: Fantasticus
Composer: Bertali, Buxtehude, Jenkins, Pandolfi Mealli, attr. Kertzinger, Muffat, Schmelzer & Stradella
Fantasticus makes an impressive recording debut with this programme of inventive, virtuoso chamber music by mostly 17th-century Italian and German composers. Its vigorous, dramatic and highly extrovert readings make for compelling listening, demonstrating not only versatility and flexibility but also intimacy and incisiveness.
Baroque violinist Rie Kimura performs with striking flair and musicianship. Outstanding are her readings of Sonatas a 2 by Schmelzer and Bertali, and especially Pandolfi Mealli's 'La Castella' sonata, the contrasting sections of which are strong in personality and imbued with expression and rhetoric. Its ground bass section, intelligently shaped, showcases the group's technical athleticism and spontaneity, amply demonstrated also in Stradella's Sinfonia no.22 and in two sonatas by Buxtehude (BuxWV272 and 273), in which Kimura and gambist Robert Smith make the most of their contrapuntal exchanges and enjoy the homophonic, expressive central adagio sections, violin triple-stopping et al.
The four dance movements appended to BuxWV273 are characterfully dispatched along with a substantially contemplative Fantasia in D minor by John Jenkins. Smith successfully captures the improvisatory nature of the short contrasting sections of a challenging gamba Sonatina attributed to Kertzinger and supportive continuo harpsichordist Guillermo Brachetta shines as soloist in Muffat's G minor Passacaglia. The recording has exemplary clarity, bloom and balance.
ROBIN STOWELL