As the Signum Quartet gears up for a focus on the quartets of Jörg Widmann at the first edition of the String Quartet Biennale Amsterdam, its first violinist Florian Donderer and violist Xandi van Dijk report back from their recent recording sessions featuring the contemporary composer's work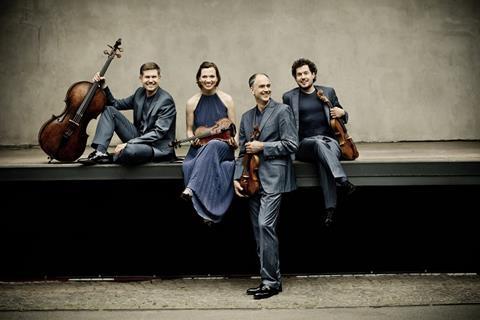 Xandi van Dijk (viola): Going into the studio can be a joyous, exciting and at the same time slightly daunting undertaking. Best case scenario: you are recording a work you know really well and you have spent a fair amount of time thinking about it and living it in concert. And sometimes you're recording something new, fresh or (relatively) unknown, in which case it can be a voyage of discovery for all involved.
I think a voyage of discovery is possibly the best approach to take when recording anything, be it brand new or well-known. And on stage, for that matter! The opportunity of being able to spend some hours in the most intense 'Auseinandersetzung' (interaction) with a few minutes of music can spur one on to new levels of penetration and understanding, if one can maintain the right mindset.
Florian Donderer (first violin): If you take the chances offered by recording, then you have ultimate freedom to take risks and experiment with both the musical and the technical. There is always the possibility to try again and try differently – if you have a safe option to come back to, that is.
Van Dijk: A good producer is obviously integral to this process. They are your ears for a few days, and you can learn so much about your own playing and approach to a piece through listening to playback, the producer's ideas and criticism, and in the case of a quartet recording, that of your musical companions. Again, maintaining a healthy mindset at this point in the session is crucial: Often the first take doesn't sound even remotely as you would like it to, and letting this dishearten you can cloud the rest of the session.
A bit of constructive troubleshooting can help: Sometimes the technical setup is not quite there yet and may need some fine-tuning. Particularly when making your first recordings, it can be useful to take a recording of another group with a sound you particularly like and play a bit of it over the studio monitors to get a feel for their sound. Being clear and open about your preferences at this stage is vital, otherwise you can be stuck with a sound you don't like.
Depending on what you are recording, having a fairly detailed plan can help tremendously in a good distribution of energy over the course of the session and the entire recording. A useful rule of thumb is that one day of recording will yield approximately 20 minutes of music. The works you're recording will obviously determine the kind of approach taken. We have recently recorded two totally different kinds of music: an album of Schubert quartets and Lied arrangements, and Jörg Widmann's Jagdquartett. The Widmann was a challenge as this is eleven minutes of high-octane, motoric music and not kind on the instruments at all. We recorded really short, carefully planned sections to be able to keep the manic energy and precision required. We also needed to keep many col legno and scraping, string-destroying bits till the end, which meant recording non-sequentially. (As well as the cellist's 'existential scream', which Thomas got in one take!) Figuring out how to make certain theatrical, visual effects such as bow swishes read on an audio recording also took some experimenting and post-production 'cheating'.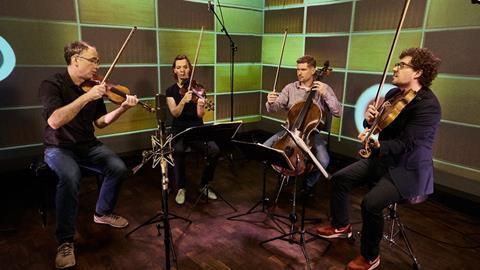 Donderer: Schubert was at the other end of the spectrum. Here we could play as softly as we dared, which is often not possible in concert. We were able to attain (with the help of great engineers and producers) a sonic intimacy and a hushed way of playing, which we feel is appropriate to the music. This also needed a different balance of longer and shorter takes than in the Widmann. In Schubert, musical flow and inspiration are paramount, so we used longer takes to get the flow and create room for events to unfold, plus very small short takes to fix ensemble and intonation.
The 'one take/one mic' advocates have the goal to capture the live moment on disc – they might even be prepared to accept quite a few flaws for the sake of the 'honesty' of the recording. That's fine, but we strive to create the best possible result for the listener in terms of technical and musical perfection. Different music demands different approaches to achieve this result.
Van Dijk: A hugely important and often neglected part of the recording process is the maintenance of relationships within the group. Expressing criticism constructively can go a long way to maintaining a positive music-making environment: The philosopher Daniel Dennett has some wonderful tips on criticising kindly and effectively. Everybody wants the best result, and passions can run high, particularly after many hours of recording when fatigue kicks in and filters falter.
Donderer: How to fight fatigue? Chocolate, coffee, fruit and running up and down the stairs a few times. Taking enough breaks, even five-minute 'refreshers'. Doing your favourite stretches. Being energised by the music!
Van Dijk: Always remember that the recording is but a snapshot of time, as Annette [Walther, second violin] likes to say. You can look forward to coming back to the work and playing it differently again at a later stage, with the insights you've gained through the recording process
From 27 January to 3 February 2018 first String Quartet Biennale Amsterdam. Fourteen quartets, including the Signum, are performing during the festival, and musical focuses include early Haydn, late Beethoven, and works by living composers – a number of whom will be present at the festival, participating in the festivals 50 concerts, masterclasses, lectures and talks