A 'Death and the Maiden' that stands tall in a crowded field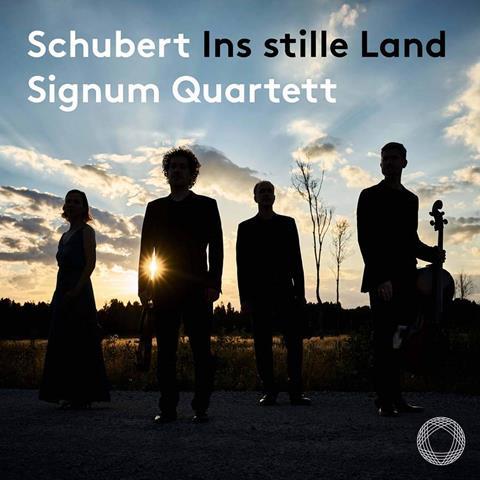 The Strad Issue: February 2021
Description: A 'Death and the Maiden' that stands tall in a crowded field
Musicians: Signum Quartet
Works: Schubert: String Quartets: no.6 in D major D74, no.14 in D minor D810 'Death and the Maiden'; Songs (arr. Xandi van Dijk): Ins stille Land, Frühlingsglaube, Vorüber, ach, vorüber…, Abendstern, Auf dem Wasser zu singen, Das Grab, Schwanengesang
Catalogue number: PENTATONE PTC 5186 732
For the second CD of its Schubert series, the Signum Quartet successfully repeats the recipe already adopted in its multi-award-winning first volume (Aus der Ferne, 2018): one of the substantial late quartets is juxtaposed with another one from the composer's early years, both pieces framed by a relevant selection of songs. The D major Quartet shows the 15-year-old Schubert wholly in the grip of the 'Rossinimania' that swept Vienna in the early 19th century: its buoyant opening movement wouldn't be out of place as the overture to one of the Italian's farces. The Signum players relish its rhythmic vitality with a feather-light touch, while plumbing the unexpected emotional depths of the following Siciliano; an agreeably lilting Ländler of a Minuet is followed by a whirlwind Finale.
The Signum's 'Death and the Maiden' is up there with the best from a crowded field. The towering chords that articulate the first movement are astutely weighed at their various appearances, while the varying octave couplings are completely seamless (and spotlessly intoned). The variations are built as an impressive arc that proceeds inevitably from the movement's organ-like exposition to its serene coda. The syncope-laden Scherzo, taken at a fiery lick, anticipates the Finale's wild ride.
Idiomatically arranged by the ensemble's violist, the interpolated songs set the stage most effectively for the two main pieces, making for a brim-full, vividly recorded CD which will hopefully soon be followed by more of its kind.
CARLOS MARÍA SOLARE
Reference
A 'Death and the Maiden' that stands tall in a crowded field