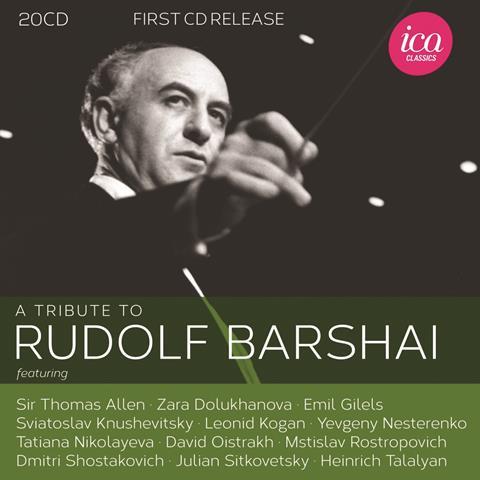 The Strad Issue: March 2016
Musicians: Rudolf Barshai (viola/conductor)
After Rudolf Barshai left the Soviet Union in 1977 he worked exclusively as a conductor, but in his native country he had been a virtuoso violist who shared the podium with the greatest players of his time. A violin student of the Auer pupil Lev Zeitlin, Barshai (1924–2010) switched to Vadim Borisovsky's viola class to be part of the ensemble that would later become the Borodin Quartet. A 1951 concert features Shostakovich's First String Quartet – its viola-led slow movement immensely enhanced by Barshai's heroic playing – and Piano Quintet with the composer at the piano. In 1953 Barshai became a member of the Tchaikovsky Quartet, a high-wire virtuoso ensemble that lasted only a couple of years before the tragically early death of its leader, Julian Sitkovetsky. Shostakovich's deeply felt Fourth Quartet is perhaps the plum of their few recordings but this set includes also the Third and Beethoven's 'Rasumovsky' no.1.
Barshai formed an all-star trio with Leonid Kogan and Mstislav Rostropovich, represented here by two Beethoven string trios (op.3 and op.9 no.1) that in their hands achieve monumentality, and Fauré's First Piano Quartet, for which they are joined by Emil Gilels. The Kogan-led recording of Tchaikovsky's Souvenir de Florence – one of the greatest examples of Russian string playing – is also included.
Barshai had another long-standing musical partnership with the pianist Tatiana Nikolayeva. We hear them in Vladimir Kryukov's sonata, a one-movement affair in the style of Scriabin, and that of Shostakovich's student Revol Bunin, whose music Barshai enthusiastically championed (his somewhat long-winded but colourful Concerto is featured too).
Barshai emerges throughout these CDs as a virtuoso in the grand manner. He certainly deserved being loaned the Stradivari viola from the Russian State Collection, the dark, large sound of which is nowhere better heard than in Bach's unaccompanied Second Partita, crowned by a majestic, organ-like Chaconne. Barshai makes every note matter and every semiquaver sound even at top speed, for example in Chopin's Etude op.25 no.2, one of several virtuoso arrangements. His tonal imagination comes to the fore in Borisovsky's arrangements of Ravel's Pavane and Debussy's En bateau, as well as in the latter's Sonata for flute, viola and harp. The Five Pieces from Prokofiev's Romeo and Juliet prove Barshai to be no mean arranger himself.
In 1955 Barshai founded the Moscow Chamber Orchestra, coaching its members individually to achieve a distinctive style for music of the Baroque and Classical eras. Their Bach and Vivaldi can sound heavy-footed today but there is some gorgeous solo playing from the likes of Kogan and Oistrakh, not to forget the staunch concertmaster, Evgeny Smirnov, who contributes among other things an imaginative reading of The Four Seasons.
The larger part of this set features Barshai as a conductor, thus falling outside The Strad 's province, but it includes some marvellous music making – both in the concert hall and in the recording studio – from throughout the master's life. The technical refurbishment has been mostly well done, although some of the oldest sources show their age. The booklet quotes extensively from Barshai's reminiscences and includes many archive photos. But even 20 CDs are too few to do justice to the multifaceted career of this uncompromising interpreter who always made music from the heart while upholding the most exacting standards. It is to be hoped that a supplement will be forthcoming!
Carlos María Solare