The contest takes place in Poland from 8-23 October 2016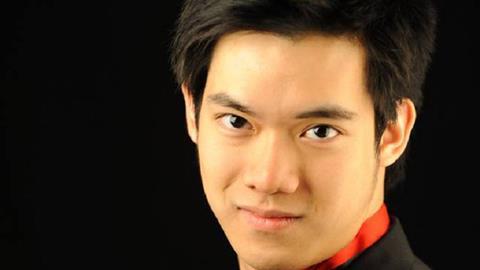 The 15th International Henryk Wieniawski Violin Competition, taking place from 8-23 October in PoznaŠ", Poland, has named the 13 candidates selected to progress to the semi-finals.
The young musicians will perform the first movement of a Mozart concerto, the first movement of Mozart's Sinfonia Concertante and one movement from Bach's Sonatas and Partitas. The competition is open to violinists of all nationalities between the ages of 16 and 30 and offers a first prize of €30,000.
Whittled down from 52 competitors chosen to take part in the live rounds, the 13 semi-finalists include 2016 Houston Symphony Ima Hogg Competition winner Luke Hsu; Tchaikovsky Competition 2015 fifth-placed finalist Bomsori Kim; 2015 Joseph Joachim Competition third prize winner Richard Lin (pictured): Joseph Joachim 2015 finalist Amalia Hall; and 2016 Sendai International Violin Competition finalist Seiji Okamoto.
The 13 semi-finalists are:
Hanna Asieieva (Ukraine)
Amelia MaszoŠ"ska (Poland)
Richard Lin (Taiwan/USA)
Arsenis Selalmazidis (Russia/Greece)
Celina Kotz (Poland)
Ryosuke Suho (Japan)
Veriko Tchumburidze (Georgia/Turkey)
Luke Hsu (USA)
Robert Šaguniak (Poland)
Amalia Hall (New Zealand)
Kim Bomsori (South Korea)
Maria WŠ'oszczowska (Poland)
Seiji Okamoto (Japan)
The 2016 jury is chaired by violinist Maxim Vengerov, who attended all preliminary selection rounds, while Krzysztof Penderecki has been named honorary chair. The remaining jurors are Alena Baeva, Zakhar Bron, Bartosz BryŠ'a, Ilya Gringolts, Dong-Suk Kang, Konstanty Andrzej Kulka, Marios Papadopoulos (Stage 4), Mayumi Seiler, Kyoko Takezawa, Akiko Tatsumi (Stage 4), Vera Tsu and Peter Zazofsky.
Previous prize winners include Ginette Neveu, David Oistrakh, Boris Goldstein, Ida Haendel and Igor Oistrakh.
For full details visit the Wieniawski Violin Competition website.
Read: 15th International Wieniawski Violin Competition announces 52 candidates