The contest takes place in Poland from 8-23 October 2016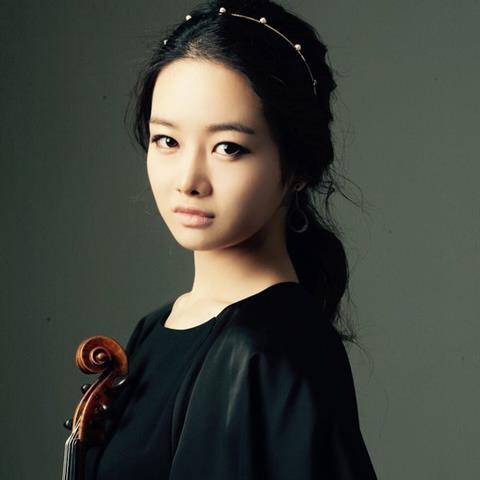 The 52 candidates taking part in the live rounds of the 15th International Henryk Wieniawski Violin Competition have been announced. Running from 8-23 October in PoznaŠ", Poland, the competition is open to violinists of all nationalities between the ages of 16 and 30 and offers a first prize of €30,000.
Whittled down from 250 entrants, the 52 violinists include Mone Hattori, 2015 winner of the Boris Goldstein International Violin Competition in Switzerland; 2016 Houston Symphony Ima Hogg Competition winner Luke Hsu; Tchaikovsky Competition 2015 fifth-placed finalist Bomsori Kim (pictured); 2015 Joseph Joachim Competition third prize winner Richard Lin; Joseph Joachim 2015 finalist Amalia Hall; and 2016 Sendai International Violin Competition finalist Seiji Okamoto.
The candidates are:
Hanna Asieieva (Ukraine)
Wonhee Bae (Korea)
Marie Bégin (Canada)
Zufina Bekmoldinova (Kazakhstan)
Christina Brabetz (Germany)
Maciej Burdzy (Poland)
Jung Min Choi (Korea)
Weronika Dziadek (Poland)
Gregoire Girard (France)
Semion Gurevich (Russia)
Mone Hattori (Japan)
Luke Hsu (USA)
Florin Silvin Iliescu (Germany/Romania)
Jiang Yiliang (China)
Bomsori Kim (Korea)
Hye-Jin Kim (Korea)
Chihiro Kitada (Japan)
Celina Kotz (Poland)
Maria Kouznetsova (France)
Erzhan Kulibaev (Kazakhstan)
Alexander Kuznetsov (Russia/Switzerland)
Stepan Lavrov (Russia)
Marisol Lee (Korea)
Christine Lim (USA/Korea)
Kevin Lin (USA)
Richard Lin (Taiwan/USA)
Vera Lopatina (Russia)
Robert Šaguniak (Poland)
Anna Malesza (Poland)
Amelia MaszoŠ"ska (Poland)
Jan Mazur (Poland)
Rustem Monasypov (Russia)
Haruka Nagao (Japan)
Yukino Nakamura (Japan)
Shuichi Okada (Japan)
Seiji Okamoto (Japan)
Kamran Omarli (Azerbaijan)
Anna Orlik (Poland)
Grace Park (US)
Eva Rabchewska (Ukraine)
Hader Rimon (Israeli)
Xingzhou Rong (China)
Alexis Roussine (France)
Arsenis Selalmazidis (Russia/Greece)
Ryosuke Suho (Japan)
Maja Syrnicka (Poland)
Veriko Tchumberidze (Georgia)
Shiori Terauchi (Japan)
Yuna Toki (Japan)
Maria WŠ'oszczowska (Poland)
Vasyl Zatsikha (Ukraine)
The 2016 jury is chaired by violinist Maxim Vengerov, who attended all preliminary selection rounds. Krzysztof Penderecki has been named honorary chair.
Previous prize winners include Ginette Neveu, David Oistrakh, Boris Goldstein, Ida Haendel and Igor Oistrakh.
For full details visit the Wieniawski Violin Competition website.