Held every four years, the contest took place from 13-19 February in Vilnius, Lithuania, chaired by violinist Gidon Kremer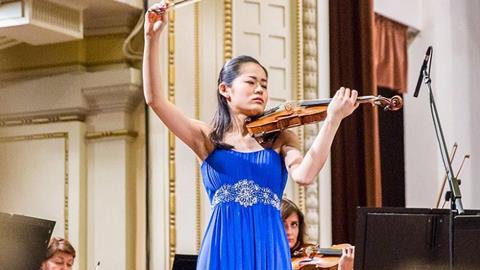 Yurina Arai has been named the winner of the Fifth Jascha Heifetz International Violin Competition in Vilnius, Lithuania.
The 22-year-old Japanese violinist, who triumphed in the final with her performance of Tchaikovsky's Violin Concerto, receives €10,000 and a number of performance opportunities. A student of Natsumi Tamai at the Tokyo University of the Arts, Arai won first prize at the Grumiaux Competition last year.
Heifetz Competition second prize, worth €5,000, went to 17-year-old Dmytro Udovychenko from Ukraine, while third prize, worth €2,000, went to 17-year-old Rennosuke Fukuda from Japan, who in 2014 won the Junior Division of the Menuhin Competition.
Fellow finalists 24-year-old Stepan Starikov and 17-year-old Mayu Ozeki were awarded diplomas, each worth €1,000, while 24-year-old Bernard Petrauskas won the audience prize.
Held every four years, the Heifetz competition is open to international violinists under the age of 27. This year's jury was chaired by Gidon Kremer, and featured Ingrida ArmonaitÄ—, Friedemann Eichhorn, RŠ«ta LipinaitytÄ—, Petras RadzeviÄius, Gerhard Schulz and Pavel Vernikov.