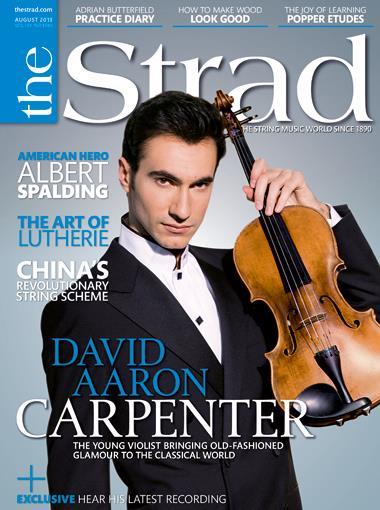 With The Strad's digital edition, you can jump from the cover or the contents pages straight to the articles you want to read. You can also link directly to pages on thestrad.com or to products in The Strad Library. Not only that, there's a wealth of additional content waiting for you to be discovered:
In Focus
Zoom in to see close-up photos of this month's featured instrument, a 1658 violin by Nicolò Amati
David Aaron Carpenter
Read our cover feature on the American violist – and link directly to our exclusive recording of him playing Brahms's Quintet op.115
Albert Spalding
Rare archive photos from the great US violinist's life, including images of Spalding during his time in the US Army, his lesser-known work as a conductor, and with his friends Fritz Kreisler and Jascha Heifetz
Auctions
View front and back photos of the top-selling instruments in the June sales, including violins by Pressenda, Scarampella and Alessandro Gagliano
Practice Diary
Watch Adrian Butterfield's video on warming up Baroque violin and practising Jean-Marie Leclair's sonatas
Reviews
Hear clips of all three of this month's recommended CDs – online or off
Download the August digital edition for FREE as part of a 30-day free trial
NEXT MONTH
In Masterclass, Jean-Guihen Queyras gives his advice on performing Elgar's Cello Concerto. We'll have an exclusive video, as well as 13 audio clips to accompany his article. And for In Focus, a Ferdinando Garimberti cello comes under the spotlight.