The German ensemble, which also won the Mendelssohn Quartet Prize earlier this year, receives CHF 20,000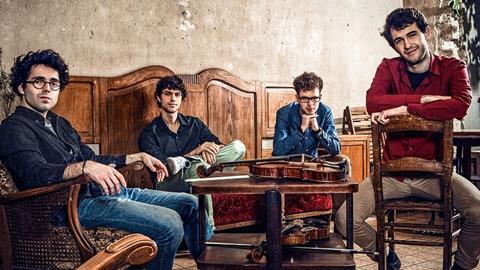 The Vision String Quartet from Germany has won first prize, worth CHF 20,000 ($19,700), at the Geneva International String Quartet Competition in Switzerland.
The ensemble, which won the Mendelssohn Quartet Prize in January of this year, also received the Audience Prize of CHF 1,500, and the Young Audience Prize, worth CHF 1,000. The group's members - violinists Jakob Encke and Daniel Stoll, violist Sander Stuart and cellist Leonard Disselhorst - are students of the University of Arts in Berlin and the University of Music Saar.
Second prize, worth CHF 12,000, went to Quatuor Hanson from France, while third prize, of CHF 8,000, was awarded to the Abel Quartet from South Korea.
In the final, the three remaining groups, whittled down from 14 ensembles selected to perform in the two preceding live rounds, each performed a Beethoven and a Bartók quartet.
The 2016 jury, chaired by Gábor Takács-Nagy, included Shmuel Ashkenasi, Nobuko Imai, Rafael Rosenfeld, Károly Schranz, Jean Sulem and David Waterman.
Founded in 1939, the Geneva Competition is held annually, alternating in eight performing disciplines - piano, flute, clarinet, cello, viola, string quartet, voice and percussion - and composition. This year's Voice competition is currently underway.