DePue is departing the ensemble after 15 years to concentrate on his role as Indianapolis Symphony concertmaster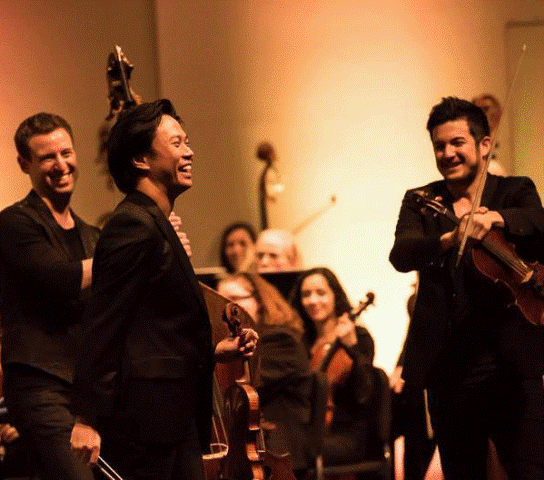 Classically trained, multi-genre spanning string trio Time for Three is to replace violinist Zach DePue with Nikki Chooi. DePue, who has performed with the ensemble since its inception 15 years ago, is departing to focus full-time on his commitments as Indianapolis Symphony Orchestra concertmaster.
Canadian violinist Chooi, winner of the 2013 Michael Hill International Violin Competition, is 'beyond thrilled' to be joining fellow Time for Three members – violinist Nicolas Kendall and double bassist Ranaan Meyer.
'I had the opportunity to collaborate with Time for Three for a week of performances earlier this year substituting for Zach,' he wrote on his website. 'What I discovered while playing with the group was that much of what I love and strive for in music was embedded in some shape or form as the core beliefs of the group. Our collaboration was a blend of ensemble playing with the individuality of a solo role, versatility in a wide range of styles, and high-octane energy. I came away from that experience inspired by their passion, quality, and integrity. Back then, never did I imagine I would be a part of Time for Three!'
Chooi will appear on selected dates with Time for Three during the 2015-16 season, fulfilling his schedule of international concerts. In coordination with his duties at the Indianapolis Symphony, DePue will intersperse appearances with TF3 throughout and until the end of the same season. Chooi will take over fully beginning with the 2016-2017 season.
Time for Three hit the headlines twice in 2014 for being denied to US airways flights with their instruments – in May violinists Zach De Pue and Nicolas Kendall were left stranded on the tarmac at Charlotte Douglas International Airport when the captain and crew decided that their violins were not allowed in the cabin; while in November Bassist Ranaan Meyer was told at Los Angeles International Airport that he would not be permitted to fly home to Philadelphia with his bass.
Read 7 ways to build a 21st century music career by Time for Three.
Photo: June Etta
Subscribe to The Strad or download our digital edition as part of a 30-day free trial. To purchase single issues click here.