Captured in the 1979 Academy Award-winning documentary 'From Mao to Mozart', Isaac Stern had a transformative effect on China's classical music scene, writes Nancy Pellegrini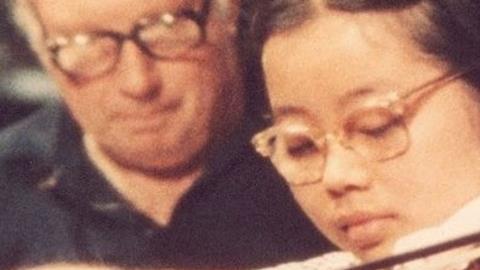 The following article is published as part of a larger feature on Isaac Stern in China in The Strad's August 2016 issue – download on desktop computer or through The Strad App.
Isaac Stern had long used his musicianship to build bridges and foster talent, touring the Soviet Union in 1951, helping save New York's Carnegie Hall from destruction, and mentoring a host of promising young players including Itzhak Perlman, Yo-Yo Ma and Pinchas Zukerman. China opening up to the West was his next logical frontier.
The country had experimented with classical music during the early 20th century but political upheavals such as the Chinese Civil War and the Japanese occupation interrupted any serious study. When Mao Zedong established the People's Republic of China in 1949 he followed the Soviet example in agriculture, industry and the arts: the theatre and ballet academies and music conservatoires established in the 1950s were in the Soviet model, a pattern that to some extent continues today. Students played Tchaikovsky and Rachmaninov but had little exposure to Mozart and Bach. Then, in 1966, the Cultural Revolution criminalised all Western influences. Chinese artists – and audiences – were limited to what became known as the 'eight model operas', or yangbanxi, which were five revolutionary operas, one cantata and two ballets. This period only ended with Mao's death a full decade later. And just three years after that, Isaac Stern arrived. Many felt this was not simply exchange, but rather an angel of music descending from on high, a cultural rainfall on a long-parched land.
For nine-year-old cellist Wang Jian, Stern's visit was seismic. 'He showed us, he told us, he demanded from us that music was all about expressing yourself,' he says. 'The content is more important than the presentation – and in those days in China, presentation was everything.' China had talented teachers, he recalls, but the general trend was to study the form and imitate the West. 'We did not have the confidence nor the tradition to say that music is only a tool to express yourself,' he recalls. 'Isaac Stern said, "I don't care how you play, but you have to say something.†'
Watch: Violinist Isaac Stern on what makes an artist
Read: Inaugural Shanghai Isaac Stern International Violin Competition names 36 shortlisted candidates
Read the full Isaac Stern in China article in The Strad's August 2016 issue – download on desktop computer or through The Strad App.
Photo: Stern with Hu Yi at the primary school affiliated to the Shanghai Conservatory (Courtesy The Four Oaks International Foundation Inc.)