In June 2012 violinist Hilary Hahn was guest editor of The Strad's 'Conversations' special. The following five quotations on performance and interpretation are extracted from that issue.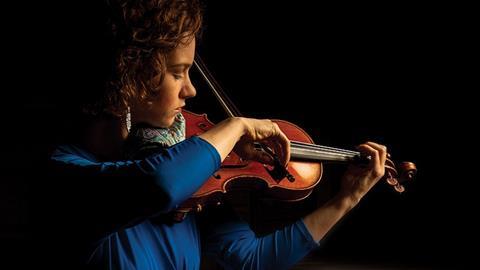 Hilary Hahn on...
Practice and performing rituals
I used to have intentional rituals, but with the travelling I do, they went by the wayside. Every day is different, but I do things habitually without realising. For practice, it's more that I'm trying to get into a mindset. A routine doesn't come naturally. I like to have a different setting almost every day; I think better if I'm in a different place. On concert days I try to take a nap before getting ready. That's definitely become a ritual. It tells me something's coming.
Reaching a personal interpretation
What I focus on with set pieces is creating the interpretation, the meaning that I want to convey. Of course the piece has meaning, but it can be turned in many different ways. You have to think, 'What am I saying?' I graduated at 19 and when I started working on my own it took a while to understand my instincts. Now when I approach a piece I go through the score, I listen to recordings, I talk to people about their experiences and impressions, and try to build my interpretation from the ground up. When I perform the work for the first time [in concert], it changes in unpredictable ways. After the first performance I feel like I finally know what the piece is. It could have become any kind of piece on stage, but it's determined to show how it really wants to be, and it does.
Mental versus physical practice
When I was at school I practised up to five or six hours a day. Now I can practise for eight hours but can be playing for less. The proportions have shifted. I play a little, I write something in the music, I do some stretching exercises, I think about it, I come back to it. I do a lot, but the amount of actual playing probably never exceeds four hours. That's about all I can do physically.
Where to feel the music
Expression is in the hands – the emotional tools for conveying interpretation are there. But for me it's also in the legs. People don't see this because I usually wear a long gown, but when I play standing, I move my legs with the music. The core and the back are also important for allowing that feeling to go into the arms.
Finding a balance between work and rest
I have to remember to keep on top of all aspects of playing the instrument. The biggest challenge for me these days is to find a consistent working mindset in the midst of the constant changes of travelling life. It's weird – on the one hand I try to keep a logical balance of work and rest, and on the other, I constantly have work at the back of my mind. Something I see or hear reminds me of something I've been working on, or gives me a new idea for a project. I love that push and pull.
Photo: Patrick O'Leary
These quotations were originally published as part of larger features in The Strad's June 2012 issue – download on desktop computer or through The Strad App.