The virtuoso's ex-girlfriend claims he was physically and mentally abusive during their relationship, which he denies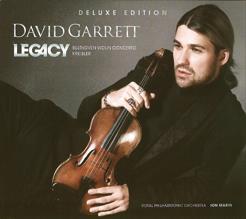 Violinist David Garrett is being sued by his ex-girlfriend Ashley Youdan for a reported sum of $12m in a Manhattan lawsuit.
The 28-year-old adult film actress, known professionally as Kendall Karson, claims the 35-year-old German virtuoso violinist physically and mentally abused her during their year-and-a-half relationship, which began in October 2014 and ended in February 2016.
It was reported in the New York Post on Monday that the complaint 'is supported by recordings, photographs and medical records,' according to Youdan's lawyer Elisabeth Conroy.
Garrett yesterday hit back at the allegations in the German Die Welt newspaper:
'I am going public because I am being forced to,' he said. 'I have no other choice. She has made private things public against my will and I feel that she is blackmailing me….it is not true, it's simply a lie…I am not an aggressive person. Violence is simply not something I'm into.'
Watch: David Garrett tries out Stradivari and Guarneri 'del Gesù' violins
Read: Violinist David Garrett cancels Proms in the Park appearance in London
Photo: Christopher Dunlop