The instrument, thought to have been played by bandmaster Wallace Hartley as the ship went down, sold for a record sum in 2013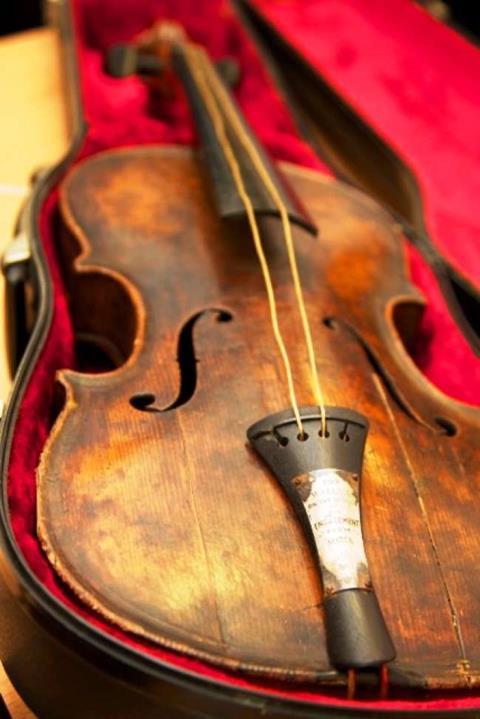 The violin famously thought to have been played to stricken passengers by Titanic bandmaster Wallace Hartley as the ship went down is to go on display in two US museums.
The sea-corroded instrument will be accessible to the public for the first time since selling to an anonymous buyer for $1.6m in 2013 – at Titanic museums in Branson, Missouri from 7 March to 29 May 2016, and Pigeon Forge in Tennessee from 5 June to 14 August 2016.
The violin's sale in October 2013 set a new world record for the highest price fetched by a piece of Titanic memorabilia. Specialist Titanic auctioneers Henry Aldridge & Son spent seven years authenticating the instrument before finally declaring it genuine in March 2013 following an examination by UK dealer Andrew Hooker. The process included examinations by violin experts and scientists, including the Home Office Forensic Science Service.
In May 2013 the violin underwent hospital CT scans to determine its age and condition, the results of which showed that the instrument - a Maggini model probably made in a German factory between 1880 and 1900 - had been damaged and restored.
It is believed that the violin was found strapped to the body of Hartley, who was discovered in the sea wearing a life jacket on 25 April 1912, ten days after the sinking. It purportedly survived the salt water because it was contained within the leather case bearing the inscription, W. H. H (Wallace Henry Hartley). The bag was included in the sale of the violin. The violin wears a silver plate on the tailpiece inscribed with the words: 'For Wallace on the occasion of our engagement from Maria.'
See pictures of the Titanic violin undergoing a hospital CT scan.