Mel Smothers chose to use the time otherwise stuck in his car to entertain fellow wildfire evacuees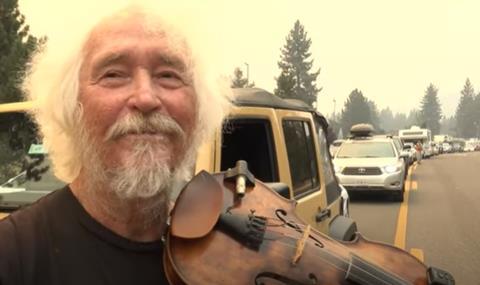 Under an increasingly burnished orange sky, against a backdrop of an endless queue of cars, one violinist has captured international attention.
Amidst standstill traffic and scenes of panicked chaos, Mel Smothers, a longtime resident of South Lake Tahoe, has been serenading evacuees of the Californian Caldor Fire on the side of the road. The Caldor Fire is currently ravaging its way through the popular resort town of Lake Tahoe in California, prompting mandatory evacuation of the town's residents as firefighters battle to contain the blaze, with many roads toward the town's exit blocked as people rush to leave their homes.
Video footage has captured Smothers playing a range of melodies, including classical, folk and bluegrass. In stark apprehension of the accelerated effects of climate change, he plays as ash and smoke rain down from the sky.
In an interview with KRON 4 news channel, Smothers states, 'I guess we should've left yesterday but we decided to leave today… We're trying to be patient.' In a positive light, he continues, 'This is some good time, I'm really working on my bowing technique right now. I hate wasting the time just sitting in the car.' On creating a sense of solidarity with fellow evacuees, he says, 'It seems to be a receptive audience, so I'm playing it with good company'.
There have been no shortage of comparisons between Smothers and Wallace Hartley, the violinist and bandleader who famously played during the sinking of the Titanic in an attempt to calm panicking passengers. Fortunately, Smothers has a plan to stay with friends in Sacramento, who have offered him, his wife and his golden retriever a place to stay.
Watch Smothers' interview with KRON 4 here:
Read: New instrument gifted to viral Kolkata street violinist
Read: Titanic violin to go on display in two US museums in 2016
Read: From the archive: a tribute to the band of the Titanic