German cellist Jan Vogler discusses cross-arts collaboration and his new project with Hollywood actor Bill Murray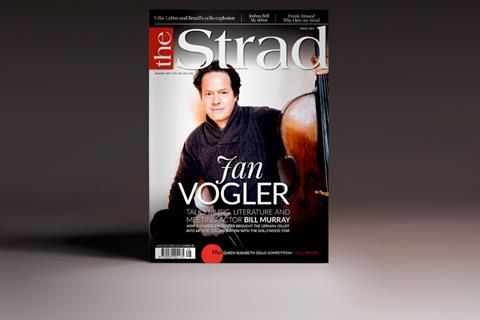 The Strad August 2017 issue is on sale now, in which German cellist Jan Vogler discusses music, literature and how a chance encounter led to an artistic collaboration with Hollywood legend Bill Murray.
Elsewhere in the issue, Lars Hoefs looks at the history of Brazilian cello ensembles, beginning with their greatest advocate, Heitor Villa-Lobos; and our Great Cellists series continues with a focus on trailblazing Portuguese cellist Guilhermina Suggia. August's Session Report sees the Pavel Haas Quartet reunited with their former violist in Prague for a recording of Dvořák's op.97 String Quintet; a recent experiment sheds light on the chemical composition of Stradivari's tonewoods and gets closer to pinpointing their provenance; and in Meet Your Maker violinist Peter Herresthal and bow maker Christophe Landon discuss creating and playing with a titanium frog.
In our regular sections: Torleif Thedéen takes us through the first movement of the Lalo Cello Concerto in the sheet music Masterclass; In Focus features a 1935 violin by Gaetano Pollastri; Carsten Hoffmann shares his method for using a 'double-cross' violin mould in Trade Secrets; German luthier Bernhard Zanders invites us into his workshop in My Space; in Making Matters Benjamin Ruth sings the praises of bandsaws; Mastering the collé stroke is the challenge set by Kurt Sassmannshaus in Technique; an interview with Jascha Heifetz from August 1937 features in From the Archive; and Ralph Kirshbaum recalls his performances of Elgar's Cello Concerto in Sentimental Work
We also bring you news of the latest competitions, products and auctions, and comprehensive reviews of concerts, CDs and books.
The digital magazine and print edition are on sale now.