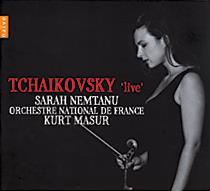 THE STRAD RECOMMENDS
The Strad Issue: January 2013
Description: A notably lyrical account of a Russian warhorse
Musicians: Sarah Nemtanu, Luc Héry (violin) Sabine Toutain, Christophe Gaugué (viola) Raphaël Perraud, Jean-Luc Bourré (cello) Orchestre National de France/Kurt Masur
Composer: Tchaikovsky
It is astonishing just how far the interpretative pendulum has swung in respect of Tchaikovsky's Violin Concerto. Not so long ago it was almost invariably played as a high-octane blockbuster with the emphasis on blazing virtuosity, the more relaxed episodes emerging as gentle interludes away from the pyrotechnical combustibility that surrounds them. Sarah Nemtanu, remarkably still only 31 years of age at the time of this recording in 2012, takes an entirely different viewpoint, producing an almost seamless stream of golden sound from her 1784 Guadagnini.
From the very first entry of this live recording, the emphasis is on heartfelt lyricism and phrasal sensitivity. Nemtanu seems almost at pains to deflect attention from the physical challenges involved and focus instead on the music's expressive impulses. Even the finale seems to radiate dancing joy rather than serving as a tour de force dash to the finishing line. She could hardly wish for a more sympathetic partner than Kurt Masur, who exchanges Cossack earthiness for balletic sweeps of sound, well caught by this truthfully balanced recording.
The same tendency towards washes of seductive allure, emphasising the horizontal rather than vertical aspect, distinguishes a performance of the Souvenir de Florence which appears never to stop 'singing', with every chance given to indulge Tchaikovsky's unique melodic gift fully. Played like this no one could doubt the Souvenir's claims as a bona fide masterpiece.
Clip: Tchaikovsky Violin Concerto in D major op.35, 3rd movement
JULIAN HAYLOCK