Violist and pedagogue Dr. Katy I.C. Ho Weatherly illustrates the benefits of chamber music sessions on beginner students, with tips on how to implement chamber music training in your teaching
Chamber music showcases individuals' musicianship through blending and mixing the sounds of different instruments, building harmony and balancing tonality, and highlighting the artistry and techniques of various voicing. Chamber music is a music-making experience that brings people together by combining individuals' strengths. It allows musicians to embed their personal voices that aren't usually heard in a large ensemble setting and emphasise collaboration between musicians that playing solo is not able to provide. Chamber music promotes independent learning, fosters collaboration between peers, vitalises deep listening and score analysing, engages students and increases music participation in addition to all the musical benefits such as rhythm, intonation, and musicianship.
Do you remember the first time you played in a chamber ensemble? I have a vivid memory of when I first played 'Canon in D' for fun with a few of my friends when I was ten years old. It was an 'aha moment' that helped me understand the meaning behind the harmony and disparate tonalities. I heard the separate voice of each part and I heard all of us in sync, breathing as one. By no means was our playing at that time perfect, but in my memory, it was a one-of-a-kind experience.
Many music organisations and summer festivals recognise the need for chamber music programmes for their young students. Traditionally, many established chamber music programmes expect students to have at least a few years of experience playing prior to their participation with a chamber group. There is usually an audition process involved that adds another barrier for young musicians to join these programmes. It is my belief that if we dismantle the barriers surrounding chamber music and re-imagine the nature of the chamber music programmes, we can turn it into a community music-making experience.
With this idea, a few years ago, I pioneered a chamber music community music program at Teachers College, Columbia University with two main missions:
1) to recruit underserved students who are interested in chamber music, but do not have access due to limited resources.
2) to facilitate the idea of collaboration and community between young musicians, including beginner musicians.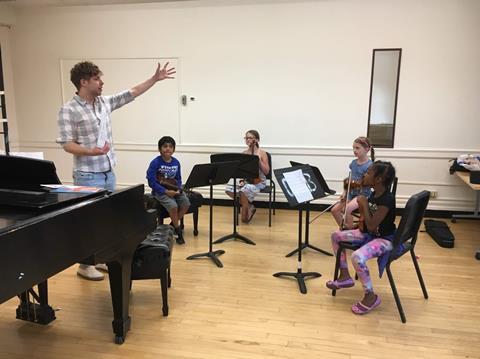 This programme encouraged young musicians at a beginner level (minimum requirement is only six months of learning their instrument) to join without an audition. The goal behind these minimal requirements was to encourage beginner musicians to join a chamber music programme for young musicians that they would not otherwise experience. By the end of the programme, 40 young musicians with very few or minimal chamber music background were able to perform on stage with their peers in chamber ensembles.
After this programme, it made me realise beginner musicians are absolutely capable of performing in small ensembles. Here are four points that will help to empower your students to take on the challenges and discover the profound benefits of a chamber music programme:
Choose appropriate repertoire:
Chamber music can expedite the progression of one's practice. For beginner musicians who do not have a lot of experience with chamber music, it is imperative to pick the appropriate repertoire for students to get started. Young musicians will feel successful when the repertoire is chosen in a meaningful way. The repertoire for young musicians does not have to be overly challenging, especially for musicians who lack chamber music experience. Educators can consider picking repertoire that is fun and familiar for young musicians to start with. Even beginner level repertoire can help musicians to learn about collaboration, blending their sound, bowing technique, intonation, rhythmic accuracy, etc.
If the programme allows, choosing repertoire democratically can be a great way to engage and motivate students. For example, teachers can select and present three pieces that are diverse with distinctive styles for students to choose. Flexibility is also key for novice musicians, consider the Zone of Proximal Development: if there are passages that are too difficult or too easy for novice musicians to master, consider re-arranging that specific part, scaffold it in a way that they will be able to master it. This will ensure students with slightly different levels of playing practice the piece together without finding it too hard or too easy.
Mixed levels within a group:
A professional chamber music ensemble is usually comprised of a few top-notch musicians. However, for educational purposes, it is acceptable and unavoidable that your chamber group will be comprised of students of various levels of experience. In my experience, putting students in similar age groups together is a good idea, even when the first violin player has a year or two more experience. As long as the gap is not vast, students can learn communication, mentorship, and empathy when you put a group of students with mixed levels of playing to collaborate together. Students with less experience will learn from their more experienced partners and those experienced partners will gain leadership insights.
Focus on student-centred rehearsal approach:
Even for beginner musicians, student-centred rehearsals will enhance the chamber music experience of the pupils. As the teacher of the chamber group facilitates a student-centered rehearsal, we can guide students to participate insightful discussions during the rehearsal, provide opportunities for students to take turns being mentors and even leaders, ask students to identify the passages with which they struggle and find solutions to solve that as a group, leverage students' voices on repertoire selection, and so on. Most importantly, keeping the chamber music experience fun for young musicians will motivate students to engage in the rehearsal process and feel empowered in continuing their exploration of instrumental music.
During my own experience running a chamber music programme, I planned fun workshops for young musicians to learn more about chamber music, rhythm, and drumming. I added social and game time for the students to get to know each other better and build community and social bonds. By the end of the camp, our children formed new friendships and made connections that will, hopefully, last a lifetime. Chamber music brings music-making communities together.
As educators, we can find or even create opportunities for our students. If you have a string studio, consider pulling interested students together for a small group chamber music experience. If you work as a string teacher at school, you can re-imagine your rehearsal process and arrange for your students to rehearse in small groups before the group rehearsals. This allows students the opportunity to explore skills, concepts, and knowledge they would not have otherwise. To dismantle the barrier surrounding chamber music, we can begin by challenging the traditional thought that chamber music is only for gifted musicians. With the right training and thoughtful planning, chamber music can be for musicians at all levels. Chamber music is a powerful tool to cultivate a community of learners.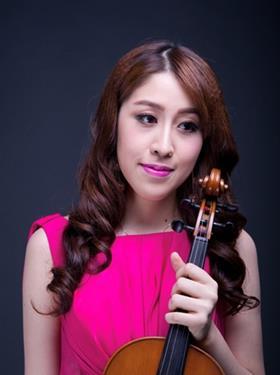 Katy I.C. Ho Weatherly is a viola graduate from the Juilliard School. She holds a Doctor of Education in music and music education at Columbia University's Teachers College. She is currently working as a manager of music in the Office of Teaching and Learning in the District of Columbia Public Schools, Washington, D.C.