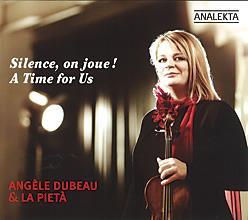 The Strad Issue: January 2012
Description: Limited ambition in a collection of film themes arranged for strings
Musicians: Angèle Dubeau (violin) La PietÁ
Composer: Rota, Williams, Barry, Morricone, Shore, Horner, Iglesias, Gardel/Rodríguez, Hisaishi, Korngold, Arlen, Chaplin, Dompierre & Myers
There's a hint of self-indulgence in the title 'A Time for Us', and this selection of highly lyrical, sometimes soupy film music somewhat bears that out. Nevertheless, there's something for the listener too, in La Pietà's warm, generous sound and Angèle Dubeau's crystalline melodic lines. Something, too, in the fine understanding between ensemble and soloist – the impressively managed rubato of John Williams's Chairman's Waltz and Schindler's List, the precise and subtle shadowing by the first violins in The Wolf Theme. The simplicity of the arrangements is initially attractive too, but, with this many familiar tunes, a little quirkiness or a foray off the beaten track would have been welcome, especially as so many of the pieces share that mood of earnest, late-Romantic yearning.
This limited scope also affects Dubeau. Her playing is both flawless and impassioned, and she's so clearly both an excellent player and leader, yet her talents feel constricted by the repertoire: Gardel's tango La Cumparsita is a too-rare example of her innate flair having room to flourish.
The five bonus tracks make the album overly long, although the piano and violin duo does add a welcome contrast. And it's contrast that this accomplished yet one-paced recording is missing.


James Crel