Wit and charm abound in authentically Viennese-sounding performances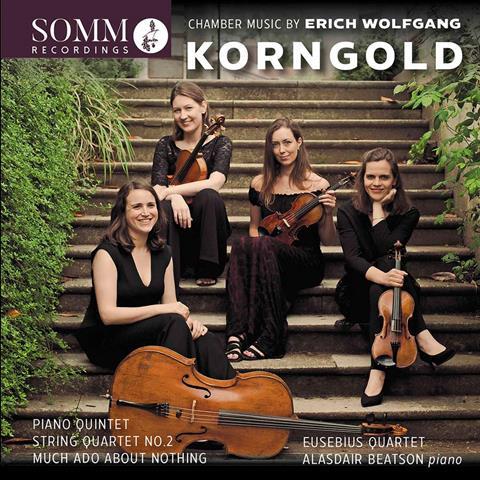 The Strad Issue: March 2022
Description: Wit and charm abound in authentically Viennese-sounding performances
Musicians: Eusebius Quartet, Alasdair Beatson (piano)
Works: Korngold: Piano Quintet in E major op.15; Viel Lärmen um Nichts op.11; String Quartet no.2 in E flat major op.26
Catalogue number: SOMM SOMMCD 0642
This disc brings together some of Korngold's best-known music, and one hopes on the basis of these performances that this is only the start of a larger recording project of his chamber works. The Eusebius players and pianist Alasdair Beatson project the larger-than-life showiness of the Piano Quintet as well as its delicacy and intimacy, bringing a seemingly unstoppable momentum to its thrusting opening theme, as well as a crepuscular aural veil to the brooding central Adagio (variations on a theme from Korngold's Songs of Farewell). The rhythmic complexity of the lush part-writing, which seems to defy bar-lines, holds no fears for these players, and here as elsewhere the recorded balance is ideal.
The four movements from the incidental music to Much Ado about Nothing combine a recently rediscovered arrangement by the composer of a three-movement suite for string quartet with a newly rendered violin-and-piano version of the touching 'Garden Scene' by Tom Poster: all are played with an infectious sense of the music's charm and wit.
The hint of neoclassicism in Much Ado (was Strauss's Bourgeois gentilhomme an influence?) spills over into the Second Quartet from 1933, which feels leaner than the extravagant Quintet, but which draws strongly personal yet authentically Viennese-sounding playing from the Eusebius foursome.
MATTHEW RYE