The violinists are competing for a top prize of $100,000 from 14 August to 2 September 2016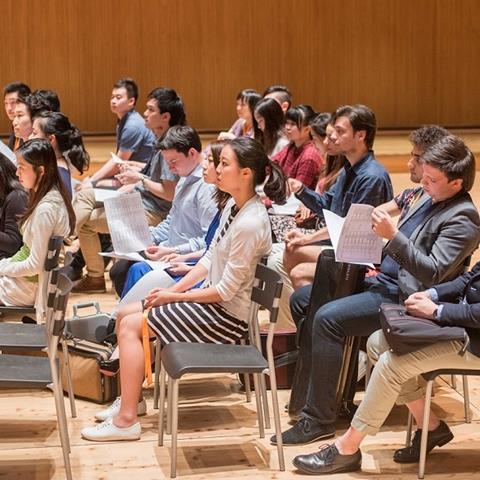 The inaugural Shanghai Isaac Stern International Violin Competition has named the 18 candidates (pictured) who have been selected to progress to the semi-finals, taking place over the next few days. The violinists, aged between 18 and 32, are competing for an impressive grand prize of $100,000.
Among the violinists are a number of players who have already gained considerable success on the competition circuit, including 2015 Joachim Competition International Violin Competition Hannover winner Sergei Dogadin; 2015 Joachim International third prize winner Richard Lin; 2013 Montreal International Musical Competition third prize winner Zeyu Victor Li; 2015 Singapore International Violin Competition third prize winner Sirena Huang; and 2014 George Enescu International Competition winner Stefan Tarara.
The semi-finalists, in order of drawing of lots, are:
Kyung Ji Min (South Korea)
Xiao Wang (China)
Yiliang Jiang (China)
Ji Won Song(South Korea)
Yang Zhang (China)
Mayu Kishima (Japan)
Jinru Zhang (China)
Yu-Ting Chen (Taiwan, China)
Jee Won Kim (South Korea)
Zeyu Victor Li (China)
Andrea Obiso (Italy)
Elvin Ganiyev (Azerbaijan)
Wendi Wang (China)
Sergei Dogadin (Russia)
Stefan Tarara (Germany)
Ming Liu (China)
Richard Lin (US)
Sirena Huang (US)
This year's jury includes Zakhar Bron, Boris Kuschnir and Maxim Vengerov, in addition to Chinese violin professors Zhenshan Wang and Lina Yu, and co-chairs – conductor and son of Isaac Stern, David Stern, and Professor Vera Tsu Weiling.
In addition to six core prizes – including a second prize of $50,000 and a third prize of $25,000 – there will be two special awards for Best Performance of a Chinese Work and the Isaac Stern Award – given to 'an individual who is deemed to have made an outstanding contribution to our understanding of humanity through the medium of music'.
For full details visit the SISIVC website.
Read: Shanghai Isaac Stern International Violin Competition names 36 shortlisted candidates
Read: Shanghai Symphony launches $100,000 Isaac Stern Violin Competition