The Strad's editor Charlotte Smith introduces the September 2019 issue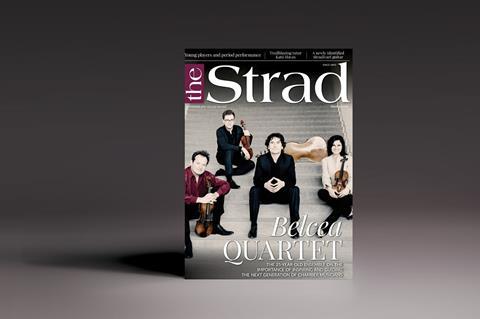 Twenty-five years ago, the Belcea Quartet formed at London's Royal College of Music. Today the group remains as strong a foursome as ever, harmed neither artistically nor in terms of reputation by several changes of personnel – not to mention the difficulty of organising rehearsals between the different countries in which its members are based. Crucial to the ensemble's longevity is its commitment to young players, an obligation that the quartet formalised in 2012 with the establishment of the Belcea Charitable Trust to fund personal coaching sessions. Through these classes the musicians are able to impart the insights they have gained during their quarter-century as an ensemble, and also the wisdom of their own mentors from the Chilingirian, Alban Berg and Amadeus quartets. Yet, as they tell Tom Stewart on page 30, the relationship between teacher and student is hardly one-sided, and can be eye-opening for younger and older players alike.
Historically informed performance is just one area to which the Belcea's apprentices have introduced their tutors. Period instruments and techniques were once considered the preserve of specialists, but a recent growth in popularity has seen more young performers experiment with historical performance practices with varying degrees of commitment – from dabbling in period playing styles to using Baroque or transitional bows, to altering their entire instrument set-up. Charlotte Gardner explores the phenomenon on page 40, and provides tips for those musicians wanting to enhance their skills in this area.
Also in this packed education-themed issue is a tribute to pioneering Hungarian pedagogue Kató Havas, whose death at the end of last year prompted an outpouring of love and nostalgia from her many former pupils (page 56). Plus there's a look at Rodney Friend's new method of practising in 5ths – proven, says the acclaimed former London and New York concertmaster, to encourage a relaxed left-hand position (pages 74 and 106).
Charlotte Smith editor
Email me at thestrad@thestrad.com or tweet @TheStradMag