The Strad's editor Emma Baker introduces the February 2023 issue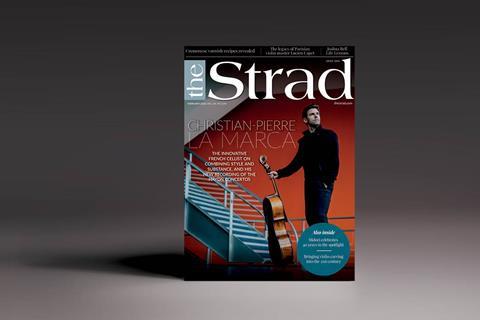 Welcome to the February 2023 issue of The Strad, where this month our content has a distinctly French accent. Our cover star is the cellist Christian-Pierre La Marca, who, alongside his live solo and chamber career, has carved out a niche by creating thoughtful recording projects that perfectly balance innovative thematic and musical programmes with popular appeal. On page 30 he speaks to Charlotte Gardner about his musical philosphy and his latest recording of the Haydn cello concertos with period-instrument orchestra Le Concert de la Loge.
It is always an absorbing and revelatory exercise to trace the links between important players and pedagogues and their pupils and grand-pupils. One such historic figure is the violinist Lucien Capet who was born in Paris 150 years ago this year. He is still best known for founding his eponymous ensemble, the Capet Quartet, and his seminal treatise Superior Bowing Technique. To mark Capet's anniversary, on page 48 Tully Potter looks at the violinist's legacy and speaks to some of today's players who continue to be influenced by his teachings.
Another anniversary of note is that of the Japanese–American violinist Midori, who is celebrating four decades since she made her professional debut, aged eleven, on New Year's Eve 1982 with the New York Philharmonic. Thomas May interviews her and some of her key collaborators on page 56, to find out what makes this remarkable (and seemingly ageless) musician tick.
It's not often that we feature recipes in The Strad, but on page 38 luthier Pierre Flavetta analyses how the Cremonese masters made their varnishes, and even suggests ingredients and formulas for modern makers to cook up copies of the wonderful rich colours and finishes of old. And also in lutherie, on page 64 Yann Poulain demonstrates how he brings up-to-date technology – the CNC (computer numerical control) machine – to the time-honoured craft of carving the top and back plates for his instruments.
Emma Baker editor
Email me at thestrad@thestrad.com or tweet @TheStradMag