The Strad's editor Emma Baker introduces the March 2023 issue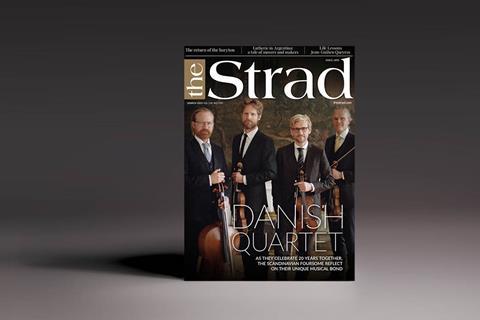 Ever since the Danish Quartet burst on to the scene in 2002, while its members were still in their teens, the ensemble has continued to surprise and delight audiences with its refreshing individuality and questing spirit, whether that is playing core repertoire such as Beethoven and Schubert, contemporary music or folk. Last autumn Andrew Mellor interviewed the foursome at their Copenhagen base as they prepared to embark on their 20th-anniversary season, and on page 26 he explores what makes them tick as such a tightly knit group.
It seems we have the baryton – a cousin of the viola da gamba, with added backstrings – to thank for the development of Joseph Haydn's string writing, as Gavin Dixon discovers on page 48. The instrument briefly flourished in the 18th century when Nikolaus I, Prince Esterházy, developed a passion for it, commanding his court composer, the young Haydn, to write extensively for him. Despite falling into obscurity (after the prince transferred his passion to opera) the baryton is currently enjoying something of a renaissance as a number of early music specialists are taking it up and introducing it to new audiences.
Behind many great musicians is an equally great teacher, although not all can be as famous as a DeLay or a Galamian. On page 40 Oskar Falta explores the life and legacy of the influential Russian cellist and pedagogue Natalia Shakhovskaya, whose name surely deserves to be better known. As professor of cello in both Moscow and later Madrid, she taught a quite remarkable roll call of distinguished cello pupils.
In lutherie this month, on page 54 Simone Zopf explores a subject that has long intrigued modern violin makers: how the early Italian luthiers produced instruments with such consistent sizes and proportions without a standardised measuring system. On page 54 she puts forward a theory that there was indeed a universal unit of measurement, based on the ancient Roman 'oncia'. And on page 34 Lionnel Genovart examines the lutherie tradition in Argentina, which flourished in the early 20th century when a number of makers, mostly Italian, immigrated to the South American country.
Emma Baker editor
Email me at thestrad@thestrad.com or tweet @TheStradMag