The Strad's editor Emma Baker introduces the December 2022 issue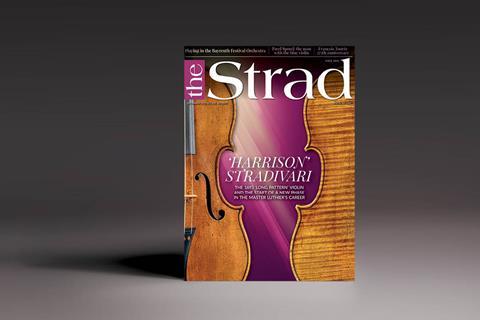 How do you get to Bayreuth? Practise.' It's the creakiest of old one-liners, but attending this iconic opera festival, either as a musician or an audience member, is something that many people consider a sort of holy grail. For Thomas Eisner, usually found among the first violins of the London Philharmonic Orchestra, the dream came true earlier this year when he was booked to spend the summer as a member of the Bayreuth Festival Orchestra. He gives his unique insider's perspective of rehearsing and playing in the pit of the Festspiele on page 40.
The Czech violin virtuoso Pavel Šporcl is best known for his unusual blue violin, made specially for him by luthier Jan Špidlen, and a penchant for wearing bandanas. Something of a superstar in his own country, he deserves to be taken note of further afield. This highly versatile artist talks to Amanda Holloway on page 34 about his new album, which features the world premiere of a concerto by his countryman Jan Kubelík, as well as his gypsy band and his period of study in the US with Dorothy DeLay and Itzhak Perlman.
On page 52 David Kettle explores the life and work of another violinist from Eastern Europe – one Felix Yaniewicz. Born in 1762 in what is now Lithuania, this enterprising artist and impresario met Haydn and Mozart before immigrating to Britain and settled in Edinburgh where he set up the forerunner of the Edinburgh Festival in 1815.
And last but not least, taking pride of place on our cover this issue is the 1693 'Harrison' Stradivari violin, an early and exceptionally fine example of the master luthier's Long Pattern. On page 26 Andrew Dipper shows how it signified the start of a new phase of experimentation, even drawing a parallel with the contemporary shift to the 'Vitruvian' architectural form with its focus on strength, functionality and beauty.
Emma Baker editor
Email me at thestrad@thestrad.com or tweet @TheStradMag