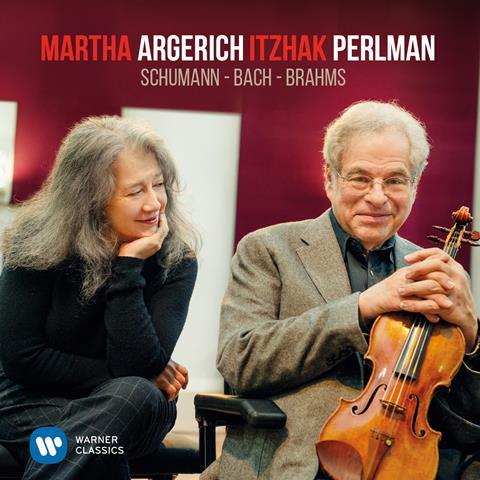 The Strad Issue: June 2017
Description: Live and studio performances from a legendary dynamic duo
Musicians: Itzhak Perlman (violin), Martha Argerich (piano)
Composer: Schumann, Brahms, Bach
Catalogue Number: WARNER CLASSICS 0190295937898
The Schumann recording here is of a live performance in New York in 1998; the rest was recorded in a Paris studio last year. Perlman and Argerich play Schumann's Sonata in the grand style, with plenty of tempest and melody in the first movement, and Perlman's trademark lyricism firmly underpinned by Argerich's busy semiquavers, marking out every accent. When the semiquavers pass to Perlman he changes up the gears to high drama; they treat the basic pulse as a starting point, and depart from this in response to the music. The second movement sounds like a sophisticated salon piece: Perlman's playing has the warmth and expressive vibrato of an earlier age, and they dance through the Bewegter passages. In the finale Perlman's spiccato semiquavers are dry as can be, his sound almost spectral. The audience clearly loved it.
In the studio recording Perlman suddenly sounds very close. The playing is just as warm, with some engaging slinky triplet playing in the second of Schumann's Fantasiestücke and plenty of fire in the third. The Largo and Adagio movements of Bach's sonata are graceful and gentle, coloured with an occasional dab of ornament. In the two Allegro movements the players clearly relish Bach's springing rhythms and energetic three-part counterpoint.
Tim Homfray