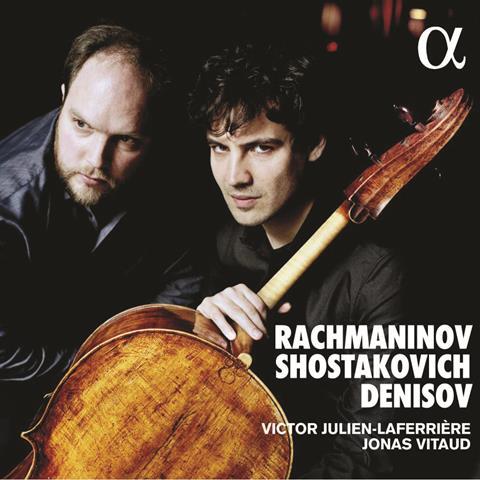 The Strad Issue: February 2020
Description: Queen Elisabeth winner is completely at home in Russian cello music
Musicians: Victor Julien-Laferrière (cello) Jonas Vitaud (piano)
Works: Shostakovich: Cello Sonata in D minor op.40. Rachmaninoff: Cello Sonata in G minor op.19. Denisov: Variations on a Theme by Schubert
Catalogue Number: ALPHA 547
Victor Julien-LaFerrière, winner of the 2017 Queen Elisabeth Competition, brings a natural lyricism to these Russian cello works. Shostakovich's First Sonata starts off in such a Romantic vein that it could almost be Rachmaninoff's. The combination of portamento and rubato at the magical moment where the cello melody reaches up impossibly high is just perfect, though the ecstasy is short-lived when the bleak, more obviously Shostakovian, piano march enters.
The young French cellist plays Rachmaninoff's Sonata with full-bodied tone and silky legato. The duo observe every tiny dynamic and tempo marking meticulously, while creating a relaxed sense of flow. The change to a more unsettled mood at the first movement's development section is expertly conveyed by Vitaud, and this ability to fluctuate between humours is expertly used by both players in the volatile finale. Their scherzo is notable for its lightness and there is heartfelt playing and lavish tone from Julien-Laferrière in the Andante.
Denisov's Variations on Schubert's most celebrated Impromptu make a curious filling between the two sonatas, the cello line weaving dissonantly around the familiar piano lines, often in very high tessituras. The recording is intimate, immediate and clear, though occasionally when high on the D string the cello sound is rather smothered by the piano.
JANET BANKS