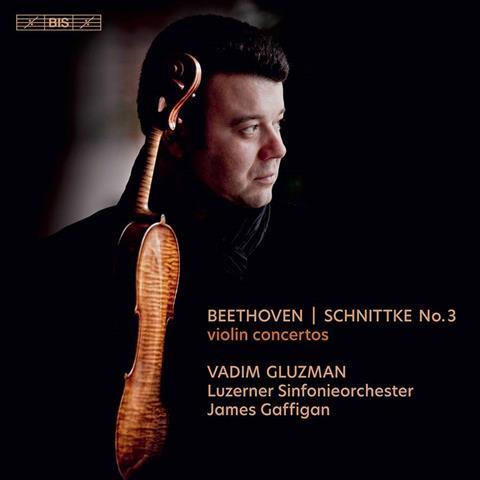 The Strad Issue: September 2021
Description: Poised performances threaded through with a sense of Russian melancholy
Musicians: Vadim Gluzman (violin) Lucerne Symphony Orchestra/James Gaffigan
Works: Beethoven: Violin Concerto. Schnittke: Violin Concerto no.3
Catalogue number: BIS BIS-2392 (hybrid SACD)
Alfred Schnittke wrote cadenzas for Beethoven's Violin Concerto at the behest of Gidon Kremer, who famously described the devices as 'open window[s] in the space of a composition'. That is precisely what Schnittke's are, not in the least ill-fitting or bizarre (as some have claimed). The first includes a collage of quotes from violin concertos by Shostakovich, Brahms, Berg and Bartók, all of them 'motivically justified', to borrow from Horst A. Scholz's booklet note. Neither seems in the least incongruous here. As the first errs toward atonal disintegration, Schnittke deploys the timpani strokes of Beethoven's opening to anchor it in context.
What is incongruous is the inclusion of these cadenzas in Gluzman's performance of the concerto proper, which is as conservative as they come, with sure vibrato deployed throughout and a finale that dampens any fireworks and irons out rhythmic gameplay. This is clearly Gluzman's idea of the piece and it is highly considered; for all its stentorian poise, it manages to avoid the grand. But it feels odd to have Schnittke underline Beethoven's outspokenness while robbing Beethoven himself of the chance.
Schnittke's own Violin Concerto no.3 (1978) gets a highly engaging performance, the intensity of its opening tremolando monologue showing the best of the intense, echt-Russian sound Gluzman gets from his 1690 'Leopold Auer' Stradivari, cleanly and atmospherically caught by BIS's microphones. It is a haunting, moving and entertaining piece, one of Schnittke's most successful. Does the sense of melancholy and remembrance here explain Gluzman's veiled take on the Beethoven?
ANDREW MELLOR