Eagerly anticipated follow-up to an impressive debut from BB Trust artists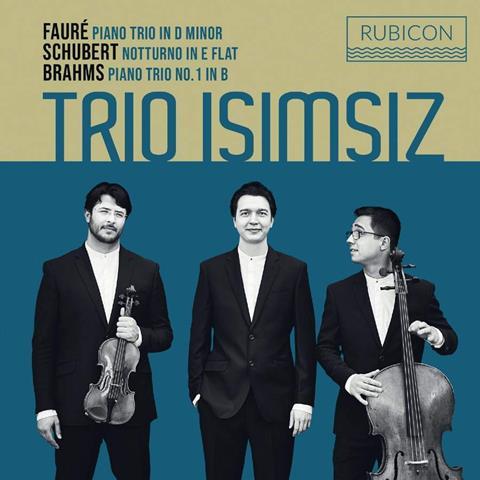 The Strad Issue: December 2020
Description: Eagerly anticipated follow-up to an impressive debut from BB Trust artists
Musicians: Trio Isimsiz
Works: Fauré: Piano Trio in D minor op.10. Schubert: Notturno in E flat D897. Brahms: Piano Trio no.1 in B major
Catalogue number: RUBICON RCD1048
With Trio Isimsiz's impressive 2017 debut recording still lodged pleasantly in the memory, this second album – made possible through a Borletti-Buitoni Trust fellowship – is a welcome sight. What's more, it fully meets the high bar set by its predecessor, seamlessly picking up the latter's threads of softly measured romance and taut poise from the natural-sounding acoustic of Monmouth's Wyastone Concert Hall.
First is Fauré's Piano Trio of 1923, a late-life work whose blend of late Romanticism and early modernity the Trio nails with aplomb: vibrato employed with clean restraint; climaxes coming as true releases but measuredly so, always gliding onwards with smoothly weightless urgency; nothing overblown; tautness and flow reigning supreme.
Delicate languor comes beautifully into play for the single-movement Schubert Adagio of 1827, via sensitively judged rubato, lucid textures, and more clean, vibrato-light playing from the strings.
Finally, the 1889 revised version of Brahms's Trio no.1 in B major is presented in a reading serving as a worthy successor to the debut album's superb Trio no.3, pulling us in from the get-go to Brahms's intense world of passionate emotion tempered by poised Classicism, confidence and joy tempered by fragility and doubt. It's a reading to lose yourself in, whether in the ardent sweetness and power of their forte singing, or in the myriad different qualities of silence that they serve. We can only hope that a third album eventually arrives with Brahms no.2.
CHARLOTTE GARDNER